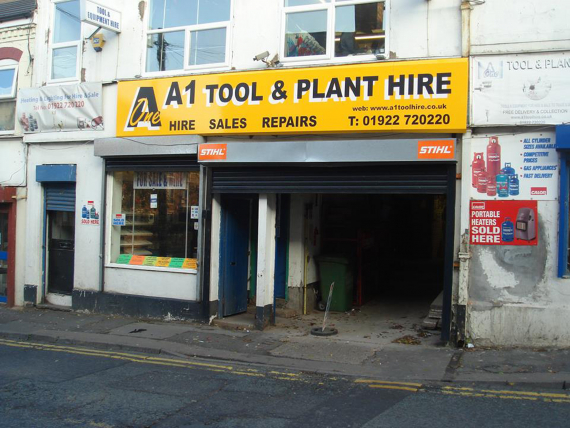 about us
A1 Tool & Plant Hire is a Walsall based independent tool hire outlet with a large variety of tools and equipment available. From hand tools and diamond blades to bottled gas and concrete mixers, A1 Tool & Plant Hire can supply you with what you require.
This business makes it a breeze to hire tools and supplies with their free same day delivery service – ensuring you can get your equipment on time. A1 Tool & Plant Hire has a large range of safety products available with their tools to ensure that they can be operated in a safe manner.
A1 Tool & Plant Hire isn't going to let you get cold this winter – they supply gas straight to your door step as a supplier of Calor gas. Whether you need butane or propane gas cylinders, they can supply it in any quantity. Heaters are also up for hire to help heat your premises and ensure that you don't get the winter blues.
A1 Tool & Plant Hire also has a large range of ladders and scaffolding, including combination steps and alloy towers. These high quality tools are readily available and well looked after. If you're looking for a more permanent solution, A1 Tool & Plant Hire offer a large selection of tools that are up for sale, available to both the Trade or just customers looking to do some DIY.
The knowledgeable team at A1 Tool & Plant Hire in Walsall is available to provide demonstrations on equipment and are there to help you find the right tool for the job.
Products & Services
Tool Hire
Plant hire
Gardening Tools
Tool Sales
Gas Bottles
Gas Bottle accessories - hose, regulators, etc
Scaffolding
Ladders
Power tools
Plumbing, heating & Pipework
Home & Gardening Equipment
About A1 Tool & Plant Hire
As a local run independent tool hire outlet in Walsall, A1 Tool & Plant Hire has been around since 1993 with over 30 years of experience within the Tool Hire industry.
With an effort to make their incredible services as available as possible, they offer free same-day delivery to a large area.
Contact
If you are looking for tool hire, plant hire, calor gas supplier in Walsall, contact A1 Tool & Plant Hire on 01922 720 220
Opening Times
Monday to Friday: 7.30am to 5.00pm
Saturday: 7.30am to 1pm
Inside Tour of A1 Tool Hire Walsall
Contact us

Unit 7,
85 Caldmore Road,
Walsall,
West Midlands,

WS1 3NR

Email us now

Visit our website

offers

find us on facebook

thebestof awards

Building and Roofing Services

Building and Roofing Services