Weddings with Balloon Art
12th August 2018
... Comments
---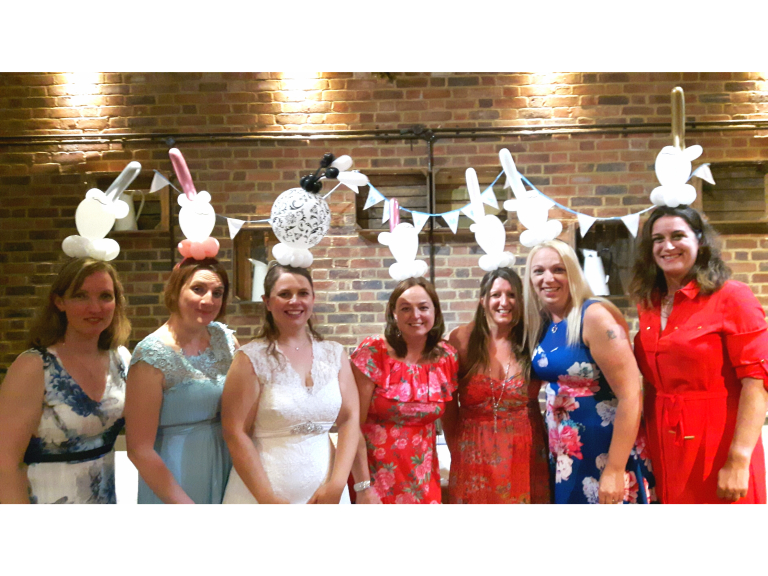 This weekend I performed at a wedding. It was in the evening for the reception part where the numbers of guests doubled from about eighty to one hundred and sixty people. About a dozen of those were children so I was really hired for three hours to entertain both the children and adults. I arrived just before the speeches were about to take place and I kept well out of the way a setting up outside ready. A few children filtered out first and snapped up the balloons I had made whilst waiting. Then the majority of adults came out after the speeches and headed to the bar with the remaining children wanting balloons.
As the evening progressed more adults came up to me requesting balloons and one group of the brides friends from a martial arts club wanted unicorns (pictured). Requests varied from knowing exactly what they wanted to "make me anything". I think everyone was impressed with the variety of wearable balloon art I made them. And as time passed I added things to the balloons like tulle fabric and lights inside the balloons to hairbands and wrist bracelets. Also the chrome shiny balloons were a hit with both children and adults alike. All the way throughout the event photos were being taken with balloons for memories of a wonderful celebration of two people and their families and friends. They were definitely a talking point! These will be used on social media, family photo albums and by the professional photographers that were there throughout the whole event.
If you are planning a wedding, or know someone that is, maybe think about having some different family friendly entertainment with balloon artistry. If you would like some help to make your event even more memorable with incredible balloon art, please contact me at www.DannytheIdiot.com.