The World of Balloons
19th January 2019
... Comments
---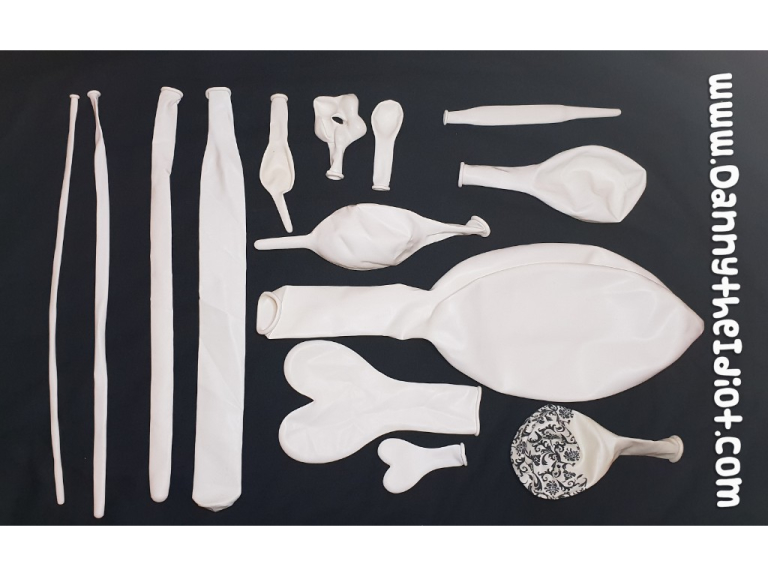 When I'm creating balloon art or performing balloon shows people are often amazed at the variety of balloons of different shapes that I carry and use. Well – it's my job! I like to have the full range to offer and each one can have a different purpose for a specific balloon model I like making or just because they are a fun shape!
In the photo above you can see there are three types of shapes, long skinny balloons, round balloons and other shaped balloons! All the shapes are measured in inches. Long skinny balloons are what are normally associated with balloon modelling. These are sized 160, 260, 350 and 646. So that means the first number is the width and the next two the length. All these sizes are when the balloon is inflated fully and are an approximation!
Then there is probably the best known shape which is the round balloon, there are more sizes than I have in white, but they are sized at 5, 9, 11, 16, 24, 30 and 36 inches. In bold are the ones shown. Finally in the latex balloon range there is a set of odd shaped balloons. I stock 6 and 15 inch hearts. There is a 321 balloon in the top right corner. Linking balloons are the 6" and 12" with noses top centre. And the one I love and people have never sen is the geoblossom top centre, looking like a flower. Finally in the bottom right is a printed balloon always on round balloons of varying sizes, 11 inch round shown in the photo.
That is my little guide to balloon shapes and there are a lot more strange and wonderful shapes, more than I stock. If you would like some help to make your event even more memorable with incredible balloon shapes and balloon art or amazing balloon shows, please contact me at www.DannytheIdiot.com