The World of Balloons 2
17th February 2019
... Comments
---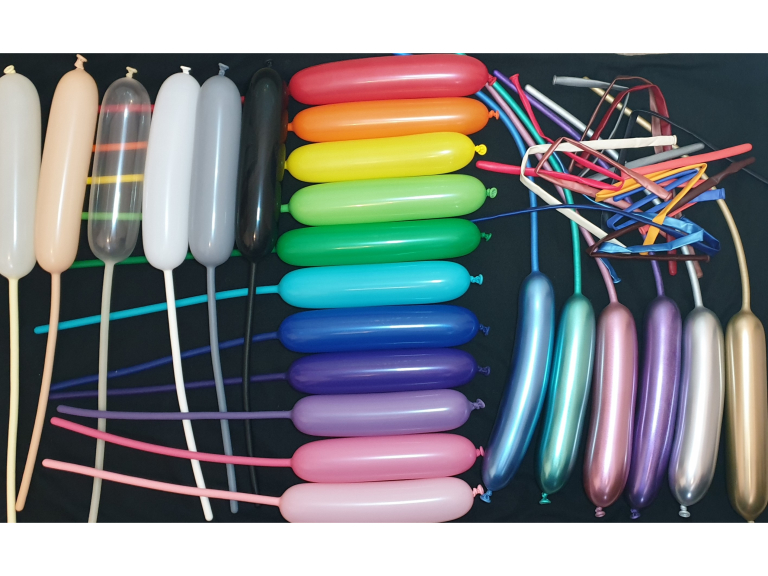 There are many colours of balloons. I stock a lot, but by no means all of them. I either don't like the colour or can't find a use for them in everyday balloon creating, or even in my balloon shows. I use Qualatex balloons – that is the manufacturer, because I like the colour palette and in the UK they are relatively easy to get hold of quickly.
Take a look at the photo. In the centre are the fun solid colours that I use most of the time. I have other variations of greens, blues and pinks. With the popular colours I like to have at least three variations of colour to play with, for example as pink is very sought after I have a baby pink, a darker pink and then another fuchsia type pink.
On the left hand side there are the worker colours, grey, brown, black, white, blush and clear. These are used for hair, faces, bases and the clear for bubbles in sea creatures. They are less fun but very useful indeed. On the right side at the bottom are the shiny chrome balloons – they are looking very metallic and gorgeous. These are really popular with both adults and children alike and only come in the six colours shown. They are great as accents, they ooze luxury and even kids like them as swords, although I try not to make swords from the chromes!
In the top right corner there are more colours, some I use and some that I don't but keep just in case! Some have different finishes or odd shades that I can't find a use for in my balloon bag. Plus my balloon bag is only so big!
That is my little guide to balloon colours. If you would like some help to make your event even more memorable with incredible balloon colours and balloon art or amazing balloon shows, please contact me at www.DannytheIdiot.com