The art of writing... pens (and so much more) from Kings Stationers.
Having stumbled across this "The lost art of letter writing" article the other day, we read with interest that handwriting and all things handwritten are becoming a lost art. As technology has evolved and become more widely used - by all ages and in all arenas - so has the art of writing by hand dwindled.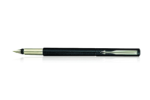 Who sends a written letter these days?
Who finds that all that comes through the post is direct mail and bills?
The one line in the article that made our heart melt was this:
"I did find myself walking into the art-supplies shop round the corner, and buying a fountain pen ... something's changed."
Just wonderful! 
At Kings Stationers we'd love to be that art supplies shop to those who'd like to fall in love with writing again. We supply the full range of pens - from your bog standard budget biro, to the most beautiful fountain pen and ink.
There's something really special about writing with a fountain pen. When you take hold of a fountain pen, you take hold of a little piece of history. Fountain-like pens emerged from the 10th century, but it wasn't until the late 1800s that the fountain pens as we know them today came into existence. They were the "go to" pen right the way through to the 1960s when ballpoint pens not only become more affordable but also more reliable, and so the popularity of the fountain pen began to wane.
But why does writing in fountain pen make such a difference?
It's actually easier to write with a fountain pen. There is less stress on the hand because you don't need to press quite so hard to write, so you'll find you can write for much longer without your hand becoming tired. 
The writing experience is smoother. When used correctly you don't tend to get blobs or skips in the writing. Just remember to hold the pen correctly (the general rule of thumb is to hold it at

40 to 55-degree angle)

, don't press too hard and use your arm and shoulder when you're writing which will help keep your hand steady.
It's a plus for the environment. If you're at all environmentally conscious then a fountain pen is a good choice. Less plastic thrown away as you just replace the ink when it runs out.
Your writing will look better. If you're known for having an illegible scrawl that people find impossible to decipher then trying a fountain pen may help improve your handwriting style.
Whatever you choose to write your next masterpiece with, here at Kings Stationers we have a selection of fountain, rollerball and ballpoint pens from brands such as Parker, Sheaffer, Cross and Waterman. They're all available as boxed gift sets, so could make the perfect present too.
If you're not sure what works best for you, why not pop in to our store on 

Alexandra Parade and we'll talk through the options with you. Our store has recently been refurbished and we're getting lots of thumbs up and positive feedback from customers who have been in to see us. 
In May Danny left a review saying: "Wow, wow, wow! - the newly refurbished shop looks amazing! Congratulations - the wonderful flooring, new space and lovely layout makes it very easy to find all kinds of things you have in stock. I look forward to visiting the shop more! Kings Stationers looks awesome - well done!" Thanks for taking the time to tell us what you think, Danny!
To see more of what others have said, check us out here.
Holiday hours 
We've had a very busy year at Kings Stationers so we've decided to close for a week between Friday 5th July and Friday 12th July to recharge our batteries.
Any commercial orders received by voicemail, email or online will be processed on Monday 15th July.

If we have the product in shop stock, then delivery will be Monday, otherwise deliveries will commence from Tuesday 16th.
The shop will then re-open on Saturday 13th July.
See you then!