Start the new year the right way with new bestof member, Nutrition Fitness Therapy.
When a new year begins many of us make it one of our new year's resolutions to eat better.
Do more exercise.
Just be a little healthier.
But how many of us stick to it?! 
It doesn't look good... apparently less than a quarter of people who make New Year's Resolution stick to them for more than 30 days, and only 8% of people fully accomplish them. So you're not alone if 3 weeks into January your rock solid commitment is starting to slide.
But what if you don't want it to?! What if you'd much rather find a way to make the initial steps you've taken to become healthier and fitter a permanent part of your life?
This is exactly where Lisa at Nutrition Fitness Therapy can help. As the newest member of thebestof Hasting's, joining our community at this time of year couldn't be more appropriate. 
Let's focus a little more on the nutrition side of things, and how the food you eat can make a significant difference to your overall health. 
At Nutrition Fitness Therapy, the concept is around change for good - the smallest of which can have a huge impact on how you feel and your health. You don't need to go grand - if you feel that making a sudden announcement that you're going vegan won't really come to anything then taking smaller, more manageable - and realistic steps - is a much better idea. And it means you'll be much more likely to stick to the changes for the longer term.
Some top tips on how to become healthier in 2020 are:
Aim for home cooked food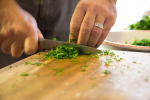 Yes, we live in a world of convenience food - ready meals are easily accessible and a take away is a phone call away. But they really are a much less healthy option. From high levels of saturated fat and salt to low levels of vitamins, minerals and fibre, you're doing your healthy eating mantra no favours by not cooking your own meals at home. Just because it's home cooked doesn't mean it has to take longer either. There are plenty of recipes out there for speedy weeknight dinners, and then you can cook something at a more leisurely pace at the weekend.
What you cook counts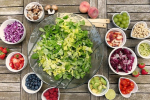 By this we mean aiming for more whole foods, and ensuring that you eat your 5 a day. It may seem like we're always hearing that 5 is the magic number - but it is! It's the best way to ensure you get the right amount of vitamins and minerals your body needs. Aim for a variety of different fruit and vegetables to ensure you mix things up. And in terms of whole foods nuts, seeds and whole grains such as barley, oats and brown rice all tick the box.
As does what you drink!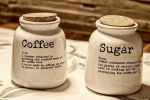 Now is the time to ditch those sweet drinks. When you consider the amount of sugar in many soft drinks - not to mention if you also add sugar into your tea or coffee - you can very quickly exceed the recommended daily limits for sugar intake. Have too much on a daily basis and you could face complications such as obesity, heart disease, insulin resistance, fatty liver and cavities in both children and adults. If ditching the sugar in one go feels like an impossible feat then try to reduce gradually do you get used to it over time. Bear in mind that alcohol also has an effect on weight loss so cutting down would be a good idea. If you are having a drink aim for lower calorie and sugar options such as spirits with a low calorie mixer. 
Ditch the diet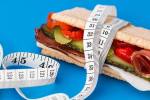 This simply means changing how you think about it. "Going on a diet" has long been associated with the concept of denial. I'm not allowed that bar of chocolate. I can't have that slice of cake. And when we deny ourselves we're much more likely to get to the point where we give in. Instead try and find a balance that works for you and your lifestyle. Having a balance that suits you means you're more likely to feel positive about the changes longer term and stick to them for good. 
These tips are all very well but what happens if you feel like you need some extra support?
That's exactly what Lisa is here for! With 15 years experience in nutrition, weight management and fitness, Lisa uses scientific, evidenced-based information to help encourage the clients I work with to develop a healthy lifestyle and wellbeing.
Want to know more?
Please call Lisa on 07968272558 for a free discovery call.