Old Favourite Bay Spice Indian Restaurant has had a Makeover!
Our premier and much-loved local Indian Restaurant Bay Spice has a fresh new look this summer and now is the perfect time to sample it!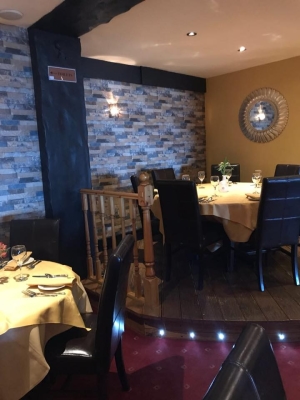 The new décor and relaxing furnishings are very welcoming, as are all of the staff at Bay Spice. This authentic Indian restaurant is a firm favourite amongst local diners for their exceptional quality and exotic cuisine, and the restaurant is looking elegant and inviting with a contemporary feel.
You should check it out for yourself!
The team at Bay Spice, the legendary Indian restaurant opposite the pier in Eversfield Place St Leonards-on-Sea, warmly welcomes customers old and new to come and dine with them and experience the new surroundings. Whilst the restaurant has been updated, one thing you can be sure of is the same great tasting, delicious food.
Customers have been quick to record their approval of the new look with glowing reviews on their Facebook page:
Ian Noble's comment was 'Wow! Thought I'd noticed a few changes in curry club pics... hope to visit soon guys!'
Tanbir Chowdhury said, 'Wow. Nice decorations and well set up, it is amazing.
Nadine Fairhall also said, 'Wow, this looks amazing. Well done!'
Abdul Muhit Kayes commented, 'Looks very nice'.
And the plaudits about the delightful cuisine are Five Star too!
In August Cale said, 'met a friend for dinner on a Tuesday evening. A very
friendly welcome as usual. The food was fantastic. I had a duck curry for
the first time and it was first class. Highly recommend'.
And finally also in August Kate S said, 'We love you guys, the service, the food, the atmosphere is just perfect. Thank you'.
Bay Spice legendary Indian restaurant has an "Excellent" rating with TripAdvisor too, with the majority of diners giving them almost a 90% outstanding rating on the reviews website.
So it's definitely time to pay a visit and sample the best Indian Restaurant for miles around!
We do recommend that you book ahead as Bay Spice is much loved and gets particularly busy at weekends and in the evening. Larger parties can also be catered for but please call ahead and place a booking.
The Bay Spice team are passionate about creating great food, they bring to your table an exquisite taste of the East that has been perfected over many years by talented chefs. Their chefs use a blend of traditional spices along with locally sourced fresh produce to create a mouth-watering combination that diners will find exciting and have them planning their return.
Bay Spice offers diners a wide range of dishes to tempt the pallet. Choose from curry dishes ranging from fiery Jalfrezi to milder Kormas, plus a variety of different dishes that diners may not have tried before. It's the perfect opportunity to be adventurous!
Ask the friendly front of house team for recommendations and try something new today.
Once you have enjoyed your meal at Bay Spice Indian Restaurant please take the time to pass on your compliments with a nice review here at thebestof Hastings by visiting their feature page. They truly deserve it, working exceptionally hard to create the perfect dining experience with  delicious food and excellent service.