How can you tell if an email is spam?
We've all been there... the email from the bank telling us that our account has been suspended. Or the one from a friend who's been caught up in a foreign country that needs money sent for them to get home.
Those ones are clearly spam, but for some, it isn't so obvious.
Claude at ClaudeComputing says he gets asked the question "Is this spam?" at least once a week, if not more.
And generally the answer to the question is a resounding "yes!" Whether that be because the content is badly written and littered with spelling mistakes (which means it would never come out from your bank or other major global organisation in its existing form) or it just seems too far fetched, something about the email just doesn't sit right.
Yet on some occasions the e-mails are so well constructed we can doubt our initial suspicions and click through the link anyway.
How do you know for sure?
There are in fact 2 very simple ways to see if the e-mail is the real deal or not.
1. 1. Look Closely at the Sender's E-mail Address
A rule of thumb for a genuine email is that the name of the sender will exactly match the email address that it is being sent from. Alarm bells should ring if that isn't the case.
In the above image, the name of the sender is a solicitors but the address of the sender is a school academy.
In the image below the email claims to be from Apple support, and says that the Apple ID has been suspended. But the email address doesn't correlate to that properly.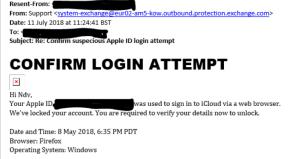 2. Hover over the link 
Sometimes the email is incredibly sophisticated and looks so genuine you may think it's bona fide. The sender may in fact have been hacked, which means the email address is correct but any links within it will end up sending you to the somewhere that isn't correct.
These emails will attempt to get you to install something or may ask you to provide you email credentials. They'll generally include a link for you to click through to that will lead you to give up the details you're after.
A really good way to test that it's genuine is to hover over the link to see exactly where it's sending you to before you even attempt to click it. You'll be able to see things before you risk any action.
What happens if you have clicked on something you shouldn't have:
If you suspect that you have fallen foul of something, the first thing you need to do immediately change all of your important passwords. Remember you may have stored your passwords for other systems within the mailbox too, so make it a clean sweep and change them everywhere.
Set up 2 Factor Authentication across all your accounts for greater protection 
If you feel that something's not right, then it probably isn't. Take action and make the changes, just in case.
For further help or information drop us an email help@claudecomputing.co.uk