Archery Takes the Gold in a recent Poll by 1066 Target Sports!
1st March 2018
... Comments
---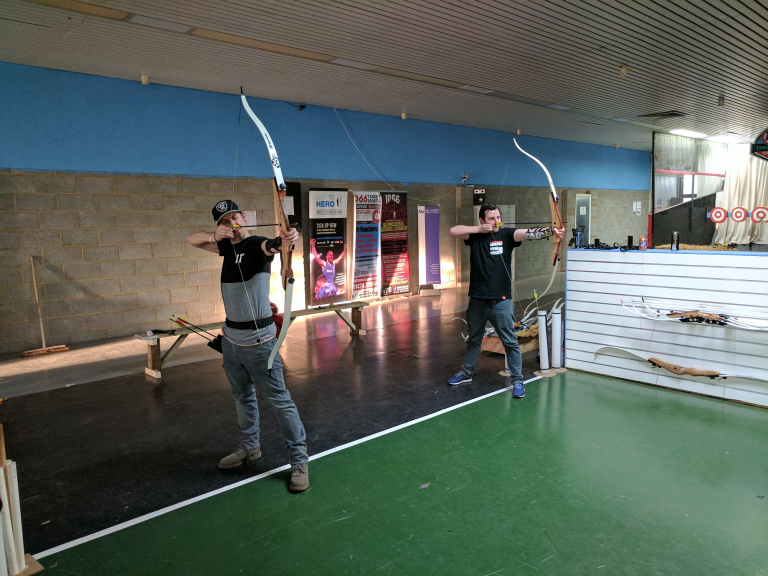 With the Easter school holidays not all that far away, now is the perfect time to visit, try your hand and consider taking up the ancient skills of target shooting, archery and so much more.
In a recent poll conducted by 1066 Target Sports members and visitors were asked which target sport they preferred: archery or air rifle shooting. Archery won the day with 57% of the vote, whilst air rifle shooting came in a fairly close second with 43%. Clearly, the bows and arrows of our English heritage - synonymous with 1066 - shone through!
Archery is the world's first shooting sport with its foundations way back in the Stone Age, and it's as fulfilling now as it ever has been. With 1066 Target Sports and its outstanding archery facilities right on our doorstep it's even more accessible.
Archery is skillful, safe and available in all weathers thanks to being indoors at 1066 Target Sports. Take up your position, draw the bow, take aim, and release the arrow and with practice, you can hit the gold. Under expert tuition and guidance archery can become a personal sporting prowess shared with many other like-minded people of all ages. Of course it's also an Olympic and Paralympic sport... could that be something to aim for?!
The sport of archery is shared by individuals and groups alike and many new friendships are made by archers meeting at 1066. Whatever the level of your aspirations there is good fun to be had, improved hand-eye coordination, accuracy and discipline to be gained by those participating regardless of the level of ability. All within state of the art facilities, indoors and manageable regardless of the weather outside, and with easy access too. The centre has eight archery lanes at distances of up to 20 metres, enabling all users to cope in safety and comfort.
1066 Target Sports employs fully trained staff on-site, and there's also access to a top-class NFAA advanced instructor. All archers will be equipped with a modern re-curve bow and arrows suitable for your size and strength.
Discover just how compelling this sport is and how competitive it can be! Call 01424 728949 and book now for the Easter holidays, bring your friends and be all of a quiver with excitement! Enjoy.