An important milestone for a great Indian restaurant!
4th November 2015
... Comments
---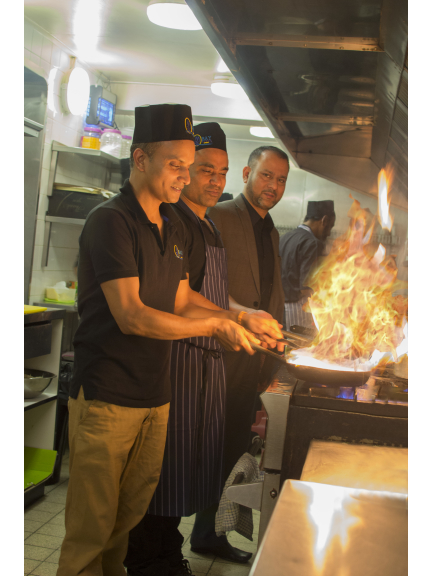 There are milestones in business that absolutely deserve recognition and are worthy of celebration; a whole 10 years in business is certainly one of those milestones!
Throughout the last decade the multi-award winning Bay Spice restaurant has been tempting the Hastings community with a wide variety of wonderful Indian cuisine, and they'd be delighted to see both established diners and new customers join them to celebrate this significant milestone in the coming weeks but especially on Wednesday 11 November at their 10th Anniversary Special meal…
The list of the Bay Spice achievements is too long to mention in full although their awards started as long ago as 2006, merely months after opening, when they picked up an official certificate for Quality of Service from Master Chefs. Various good food and customer service awards followed and in 2011, they were first awarded the Food Hygiene 5 Star Rating, which has been repeated every year since. Hastings Borough Council presented a Top Winner award of Eat Global in 2014 and in each year since 2012, Bay Spice has been proud to receive a Certificate of Excellence award from Trip Advisor.
Being recognised within the local community as the 'the best' Indian restaurant is an accolade that Bay Spice are of course, extremely proud to boast; they joined 'thebestof Hastings' early in 2015 and are delighted to host the quarterly Hastings Curry Club, where local professionals and business people enjoy a regular array of fine Indian food while networking!
There's a special deal for the 10th Anniversary Special meal, including a free bottle of wine per couple, on 11 November and of course, booking is essential. That said, if you can't make the specific anniversary evening then there's plenty of opportunity to sample 'the pure flavour of India' with both Christmas lunch and dinner set menus throughout December. On Christmas Day itself Bay Spice will offer a choice of their usual Indian dishes or a traditional English dining experience. And, there's a New Year's Eve special offering too including complimentary drinks.
So, whether you're a regular diner at Bay Spice or this amazing dining experience has passed you by until now, you really have no excuse not to visit the wonderful Bay Spice (almost opposite Hastings Pier) within the coming weeks. Call 01424 444298 / 718632 for bookings – you'll be made to feel very welcome… or visit their feature for more information, where you can also leave your reveiw of your Bay Spice dining experience:
https://www.thebestof.co.uk/local/hastings/business-guide/feature/bay-spice