A morning off in Abu Dhabi
5th August 2018
... Comments
---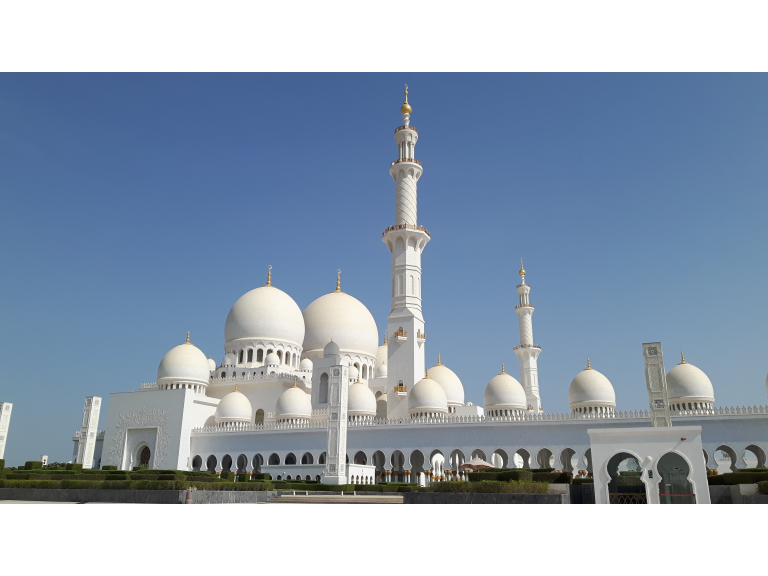 Whilst working in Abu Dhabi in the United Arab Emirates recently (please see last week's blog), I had the morning off and about 6 of us went to visit the Sheikh Zayed Grand Mosque Centre, the largest Mosque in the UAE. There is a free guided tour of the building and whilst waiting in the heat of 42 degrees Celsius we all got rather warm! We were lent earpieces and receivers so our guide, Amira, could broadcast via a microphone and we could hear everything. Construction began on 5th of November 1996, and the internal prayer halls were initially opened for worship Eid Al Adha (Feast of Sacrifice) 2007 and have remained so since then. Its design theme and construction 'unites the world', using artisans, craftsmen and materials from many countries including Italy, Germany, Morocco, India, Turkey, China, United Kingdom, New Zealand, Greece and of course the United Arab Emirates. More than 3,000 workers and 38 contracting companies took part in the construction of the Mosque! Natural materials were chosen for much of its design and construction due to their long-lasting and beautiful qualities, including marble, stone, gold, semi-precious stones, crystals and ceramics.
We started outside and learnt some of the history and meaning of parts of the mosque and a little bit about the UAE too. Then we moved inside to the air-conditioned interior where we saw and stood upon the world's largest one-piece carpet which was made in Iran and transported in two planes due to the enormous weight. They then stitched it together over 6 months and shaped it to the interior space. The main prayer hall houses the world's largest hand-knotted carpet. The intricate Islamic medallion design was made by third generation carpet maker and artist, Dr. Ali Khaliqi.  The predominantly wool carpet was hand-crafted by approximately 1,200 artisans. Its creation was a two-year project, the design took approximately 8 months, the knotting 12 months and the remaining time to transport, trim and weave the pieces together. The final single piece carpet is 5,700 square meters, about 70% being wool and the rest of 30% is cotton. 
As you can tell I was fascinated by the carpet! We also learnt about prayer times, about how it all works in that particular mosque and lots more information which can be found on their website here https://www.szgmc.gov.ae/en/. I thoroughly enjoy my informative trip to Sheikh Zayed Grand Mosque Centre.
If you would like some help to make your event even more memorable with incredible balloon art, please contact me at www.DannytheIdiot.com