Eastbourne Shinewater Health Walk
95 Milfoil Drive, Eastbourne
BN23 8BR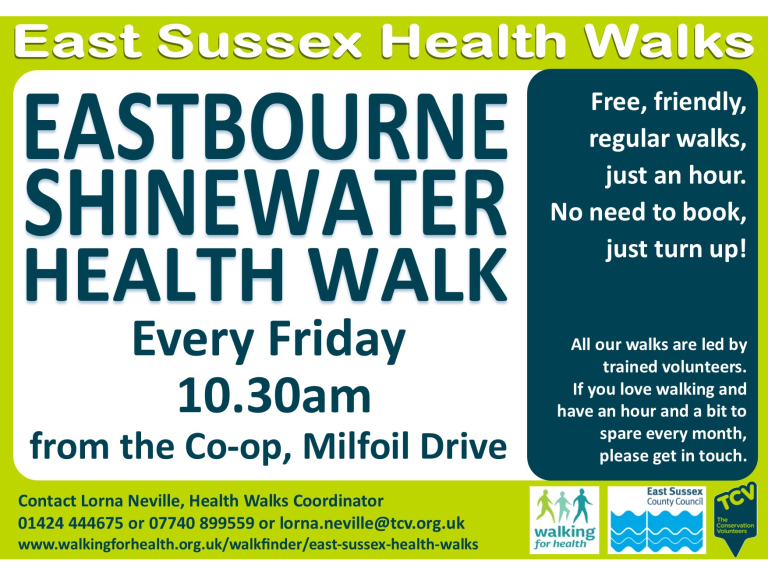 Free health walk every Friday 10.30am from outside the Co-op
Join our free weekly health walk every Friday from 10.30am from outside the Co-op on Milfoil Drive. The walks are only about an hour and not too tricky... you'll soon start to feel the benefits of regular, gentle exercise.
Plus, the walkers nearly always go for a cup of tea or coffee together afterwards!
There's no need to book, just turn up and look for the leaders in yellow waistcoats.
We also have health walks in Eastbourne on Tuesdays and Wednesdays.
Future dates
Friday 25th January 10:30am until 11:30am
Friday 1st February 10:30am until 11:30am
Friday 8th February 10:30am until 11:30am
Friday 15th February 10:30am until 11:30am
Friday 22nd February 10:30am until 11:30am
Friday 1st March 10:30am until 11:30am
Friday 8th March 10:30am until 11:30am
Friday 15th March 10:30am until 11:30am
Friday 22nd March 10:30am until 11:30am
Friday 29th March 10:30am until 11:30am
Friday 5th April 10:30am until 11:30am
Friday 12th April 10:30am until 11:30am
Friday 19th April 10:30am until 11:30am
Friday 26th April 10:30am until 11:30am
Friday 3rd May 10:30am until 11:30am
Friday 10th May 10:30am until 11:30am
Friday 17th May 10:30am until 11:30am
Friday 24th May 10:30am until 11:30am
Friday 31st May 10:30am until 11:30am
Friday 7th June 10:30am until 11:30am
Friday 14th June 10:30am until 11:30am
Friday 21st June 10:30am until 11:30am
Friday 28th June 10:30am until 11:30am
Friday 5th July 10:30am until 11:30am
Friday 12th July 10:30am until 11:30am
Friday 19th July 10:30am until 11:30am
Friday 26th July 10:30am until 11:30am
Friday 2nd August 10:30am until 11:30am