What Tiles are Suitable for Underfloor Heating?
14th March 2017
Author: Team at thebestof Brighton & Hove
Comments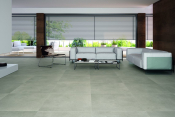 Comfort, efficiency and the freedom to design your bathroom without having to leave space for radiators – these are the main reasons that more of us are investing in underfloor heating. And in the often chilly British weather, the thought of a warm floor underfoot in your warm bathroom makes it all the more appealing, especially first thing in the morning.
But if you want underfloor heating in your bathroom does that mean you can't use tiles for the floor? Will the heat not crack the tiles?
The short answer is no; any and all tiles are suitable for underfloor heating, in fact they are one of the most suitable floor coverings for use with underfloor heating, whether it is an electric mat or water pipes. Tiles are very efficient transmitters of the heat from underfloor heating and they radiate it effectively into the room. The thicker the tile, the longer it will take for the heat to make its way through, but conversely the longer it will retain and continue to radiate heat after the underfloor heating is switched off.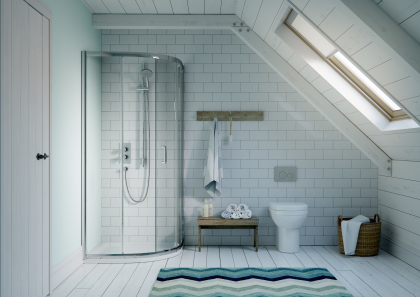 All tiles apart from mosaics can be laid directly on top of underfloor heating mats and cables, however you should always ensure you use a flexible tile adhesive and grout suitable for underfloor heating. Tile adhesive should be used to make a complete bed - the tiles should not be spot-dabbed, otherwise unheated patches will be felt above the air pockets.
When installing underfloor heating on a screed you need to use a decoupling mat and a flexible adhesive to stop any stress cracks that develop from the changes in temperature being transferred to the tiles (in fact always use a flexible adhesive no matter what the floor is made of). For large areas use expansion joints. 
When it comes to installing underfloor heating under stone, ceramic or porcelain tiles, an important consideration is insulation. It's more work and cost to install, but very much worthwhile since it can reduce the running cost of your heating by as much as 50 per cent. It reflects heat back into the room that would otherwise be lost, making the system quicker to warm up, and more efficient.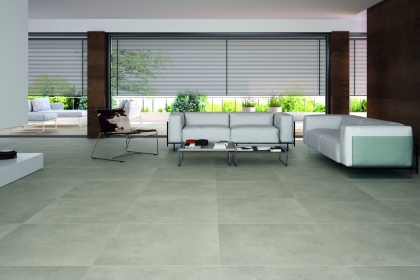 Floor tiles come in all shapes and sizes and in ceramic and porcelain as well as natural stone. If you want a non-tile look, the latest technology means that wood and stone-effect tiles are now very difficult to tell apart from the real thing, but are easier to maintain. Some stylish large-size tiles are available which make a small room look larger, as the lack of grout lines makes the tiling look less busy. Patterned tiles are also coming back into fashion, particularly when laid as a patchwork of different encaustic style patterns.
Other floor finishes suitable for underfloor heating systems are carpet, laminate, wood, vinyl, engineered wood, linoleum, bamboo, concrete… just about anything really, as long as the correct "groundwork" is done to install the heating system and the tiles correctly.
So yes your bathroom floor as well as living room floor can be warm, hard-wearing and attractive!
For a huge range of tiles suitable for underfloor heating in the Brighton and Hove area, visit:



Eurotiles & Bathrooms

Unit 6c, Freshfield Business Park, Stevenson Road, Brighton 
BN2 0DF
T: 01273 605445
W: http://www.eurotilesandbathrooms.com/
Eurotiles and Bathrooms are a recommended business on thebestof Brighton and Hove. Read local reviews HERE.