Voices Choir - Pevensey
Pevensey Bay Baptist Church
BN246HJ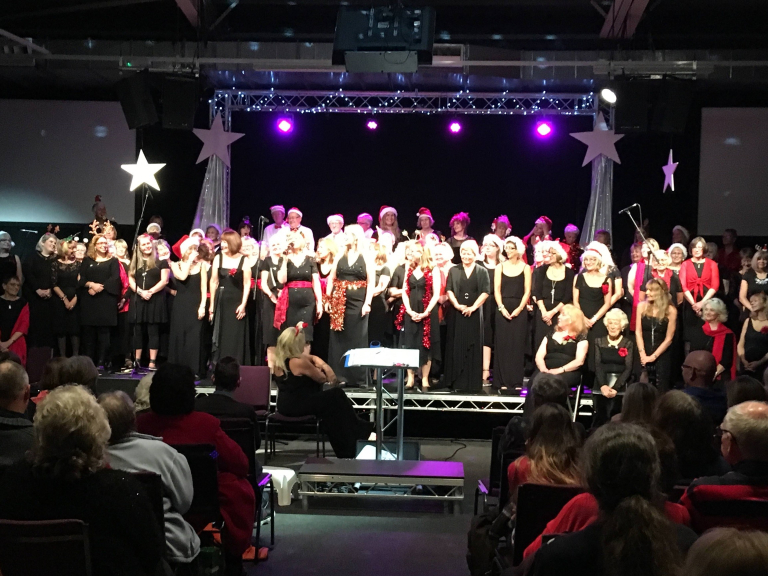 Singing for fun, and raising thousands for charities!
Join Voices Choir and let the stresses of the day melt away. Singing is great therapy, and at Voices we have great fun, loads of laughs, make firm friendships and raise money for good causes. Most choir members had not sung since their school days, so don't worry if you have no experience. We don't use sheet music either...just lyrics...so you don't have to read music.
Three sessions a week means you can choose what's most convenient for you. Weds 7-9 Eastbourne, Thurs 12.30-2.00 and also 7-9 Pevensey Bay Baptist Church.
Future dates
Thursday 27th June 7:00pm until 9:00pm
Thursday 4th July 12:30pm until 2:00pm
Thursday 4th July 7:00pm until 9:00pm
Thursday 11th July 12:30pm until 2:00pm
Thursday 11th July 7:00pm until 9:00pm
Thursday 18th July 12:30pm until 2:00pm
Thursday 18th July 7:00pm until 9:00pm
Thursday 25th July 12:30pm until 2:00pm
Thursday 25th July 7:00pm until 9:00pm
Thursday 1st August 12:30pm until 2:00pm
Thursday 1st August 7:00pm until 9:00pm
Thursday 8th August 12:30pm until 2:00pm
Thursday 8th August 7:00pm until 9:00pm
Thursday 15th August 12:30pm until 2:00pm
Thursday 15th August 7:00pm until 9:00pm
Thursday 22nd August 12:30pm until 2:00pm
Thursday 22nd August 7:00pm until 9:00pm
Thursday 29th August 12:30pm until 2:00pm
Thursday 29th August 7:00pm until 9:00pm
Thursday 5th September 12:30pm until 2:00pm
Thursday 5th September 7:00pm until 9:00pm
Thursday 12th September 12:30pm until 2:00pm
Thursday 12th September 7:00pm until 9:00pm
Thursday 19th September 12:30pm until 2:00pm
Thursday 19th September 7:00pm until 9:00pm
Thursday 26th September 12:30pm until 2:00pm
Thursday 26th September 7:00pm until 9:00pm
Thursday 3rd October 12:30pm until 2:00pm
Thursday 3rd October 7:00pm until 9:00pm
Thursday 10th October 12:30pm until 2:00pm
Thursday 10th October 7:00pm until 9:00pm
Thursday 17th October 12:30pm until 2:00pm
Thursday 17th October 7:00pm until 9:00pm
Thursday 24th October 12:30pm until 2:00pm
Thursday 24th October 7:00pm until 9:00pm
Thursday 31st October 12:30pm until 2:00pm
Thursday 31st October 7:00pm until 9:00pm
Thursday 7th November 12:30pm until 2:00pm
Thursday 7th November 7:00pm until 9:00pm
Thursday 14th November 12:30pm until 2:00pm
Thursday 14th November 7:00pm until 9:00pm
Thursday 21st November 12:30pm until 2:00pm
Thursday 21st November 7:00pm until 9:00pm
Thursday 28th November 12:30pm until 2:00pm
Thursday 28th November 7:00pm until 9:00pm
Thursday 5th December 12:30pm until 2:00pm
Thursday 5th December 7:00pm until 9:00pm
Thursday 12th December 12:30pm until 2:00pm
Thursday 12th December 7:00pm until 9:00pm
Thursday 19th December 12:30pm until 2:00pm
Thursday 19th December 7:00pm until 9:00pm