You'll find no MSG at Ocean Palace
Monosodium glutamate (MSG) is a flavor enhancer commonly added to Chinese food, canned vegetables, soups and processed meats it is generally recognized as safe but unnecessary.
Ocean Palace Cantonese Restaurant have made a conscious decision to avoid the use of MSG completely, preferring to tempt our taste buds with truly natural and mouthwatering flavours.
The Ocean Palace team specialise in excellent Chinese cuisine including Cantonese and Szechuan styles. The menu is extensive with no less than ten different soups plus a number of other 'starter' options to begin your Ocean Palace experience.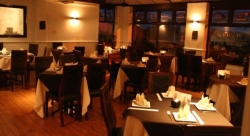 There is an extensive variety of choices available with Chef Specials too, always a good option especially for those new to Chinese food. Using top quality locally sourced produce wherever possible there is no real need for flavour enhancers, thanks to talented chefs who love what they do the fine food at Ocean Palace is perfect just as it is.
Fresh vegetables stir-fried to retain the natural flavour, freshly cooked rice or noodles just at the moment of perfection, these are the things that mark out good Chinese food.
Achieving the very best flavours from traditional meat and fish is a speciality of the Ocean Palace Chefs, using styles from around the enormous sub-continent of China enables them to create mouthwatering delights. Fish dishes include, Prawns, Squid, Sea Bass and Crab Claws, delicately flavoured Scallops, and Cod accompanied by ginger, hot and spicy sauce and so much more.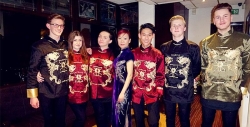 Try something new today. Ocean Palace would like customers to sample something different from their menu, have a word with the front of house staff about the alternatives, and remember the taste of the food at Ocean Palace is truly authentic – no MSG at all.
If fish isn't really to your taste, don't worry Ocean Palace has plenty more to offer. Customers may choose from an assortment of different meats including Lamb, Fillet Steak, Beef, Chicken, Pork or Duck in a whole host of different sauces! All meals include steamed rice or chips. The menu has something for everyone.
Ocean Palace is a taste of the Orient brought into Bolton with truly excellent surroundings and an authentic Chinese food experience not to be missed.
If you would like any more information about Ocean Palace, give them a call on 01254 775005