Why are dessert shots so popular?
28th November 2016
... Comments
---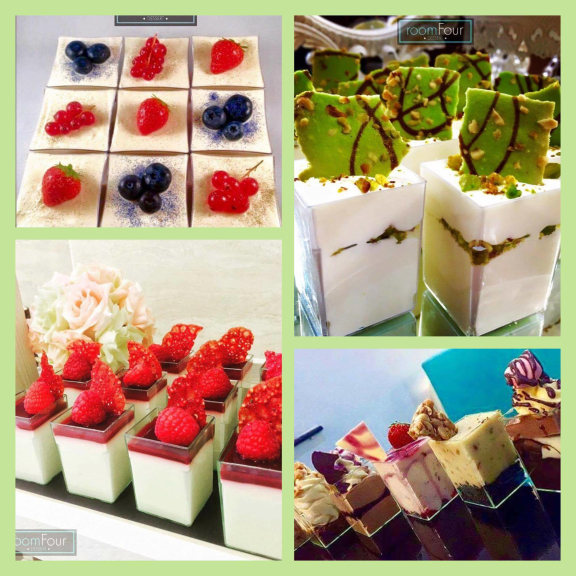 The Dessert Shot is a foodie's idea of heaven, whether one loves a good pudding or not this is something worthy of special attention, but it is no quick fix as it will always leave you wanting more.
What is a Dessert Shot? Dessert Shots are small exquisite desserts sometimes served in a glass sometimes not but absolutely packed with flavour. The idea is to allow non-dessert eaters to sample a confection that is rich and just enough to tempt their taste buds, yet should a person wish to try more than one then dessert shots are light enough to allow them to enjoy some variety. Many diners find that large gateaux can be too much for them and a smaller very special treat will satisfy them, the Dessert Shot is ideal. With desserts, less is often more, with very intense, or very subtle flavours, a small amount – a shot of flavour – is just perfect.
Room Four Dessert are local specialists in dessert shots.
Room Four Dessert is co-owned by Asif Timol and Salman Barlwla who are passionate about providing excellent food and especially the most delightful desserts.
Room Four Dessert came about from the very simple notion that no matter what you've eaten, there is always room for dessert especially a mouthwatering dessert that will complete the dining experience. After much testing and tasting in the name of research, Room Four Dessert was established in 2013 and has since secured itself firmly on the map as Bolton's premier dessert house.
Room Four Dessert offer something for every dessert aficionado.
Room Four Dessert offer a finely-honed breakfast and lunch menu to offer something for shoppers, students and business people alike as they go about their daily business. Customers are invited to whet their appetite from their extensive menu on line and visit the restaurant to see what extras and specials are on offer in their display fridge. You will be spoilt for choice.
If you would like to find out any more information about Room Four Dessert, give them a call on 01204 876756