Where Does The best afternoon tea in Bolton?
We've just got back to the office after a lovely afternoon tea experience at  The Last Drop Village Hotel & Spa who is a longstanding member advertiser of thebestof bolton.
The Last Drop Village Hotel & Spa has been around for many years and is a well-known name across Bolton for hotels, dining and the village itself.
Recently taken over by the Emerson Group, The Last Drop Village Hotel & Spa is undergoing extensive refurbishment and exciting changes.
Our afternoon tea was served in the Village Tea Shop which is based in the centre of the village and has indoor and outdoor seating.
We arrived and were welcomed by the Tea Shop staff and were given our choice of hot drinks to choose from, coffee or a selection of teas. We all chose tea and these were presented beautifully in individual contemporary tea pots showcasing the leaves as part of the experience.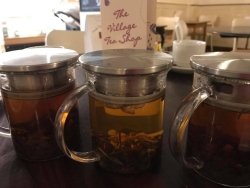 Three of us dined, and we ordered two of the gentleman teas priced at £17.95 and a traditional afternoon tea priced at £15.95.
The traditional tea does exactly what it sayson the tin, sandwiches, scones and a selection of small cakes.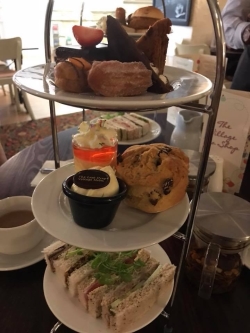 The gentleman's afternoon tea consists of sandwiches, scones and savouries.
Afternoon tea can be one of those things that if you don't enjoy lots of sweet treats (we don't have that problem at thebestof bolton) then you can be put off as usually the savoury element is minimal, this is where the gentleman's afternoon tea is an excellent choice giving you a range of sandwiches as well as things such as a pork pie, mini quiche and even a fish finger sandwich.
The gentleman's afternoon teas also came with a selection of accompaniments which included piccalilli and a really interesting anchovie pate.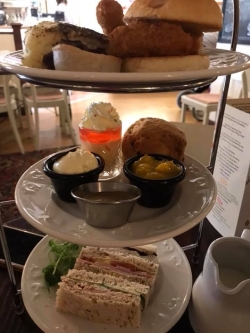 If you're celebrating, you can have add a glass of sparkly to your afternoon tea, and if you're really pushing the boat out, a full bottle!
It's a while since we've eaten at The Village Tea Room and it was lovely to see the changes they've made to the seating inside and really enjoyed the food and all round experience.
If you're looking for somewhere to take somebody as a treat, celebration or just for lunch, then the Village Tea Room is an excellent choice!
The Last Drop Village Hotel & Spa has many events going on over the coming months including:
Father's Day Lunch
Night Fever
Family Summer Day Out
Farmers Market


So if you've not been up for a while, parking is free, go and have a nosey, we know you'll love the changes!