Top Tips to make the most of your Central Heating
Many of us take the Central Heating in our property for granted, until it stops working, by which time it may be too late. Considering how much we rely on Central Heating it would make sense to give it the same level of 'TLC' that we give to our cars.
A regular service by a suitably qualified and registered Company such as Booth Heating of Bolton could give the system a new lease of life, ensure that it is safe to use, provide greater efficiency, and save one a good deal of money.
However, there are ways to maximise the efficiency of one's central heating on a daily basis, here are a few tips:
Bleed the radiators. Central heating systems use radiators that over time will collect air inside, this will reduce the warming effect by producing cool zones at the upper edge of the radiator. Using a tiny radiator key, it is relatively easy to release the air. Be sure to have a towel ready to catch any drips, put the key into the socket at the top of the radiator and ease it gently until you can hear the air coming out – it will hiss, when water comes out turn the key until the valve is shut tight.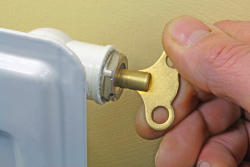 Warm air ducted heating systems work best if the, usually, floor mounted air ducts are not obstructed by furniture, dogs – they love a warm spot, and abandoned clothing etc.
Furniture that has been pushed against radiators will block the heat leaving room occupants to shiver. Take care to move furniture away, and any similar objects, on a regular basis.
Regular maintenance of the central heating system will ensure that the flues, radiators and water heating parts of the system are working correctly, burners burning evenly and thermostats correctly set and adjusted to suit the seasonal temperature changes. This is best done by professionals who will spot any problems before they can cause damage.
Consider changing the Central Heating boiler if the existing one is showing its age. More modern boilers are more efficient than their predecessors. Having the boiler replaced can improve the comfort in one's home and save money too.
Asking Booth Heating about the condition of the existing one or having a new boiler may be the best way to improve the wellbeing of one's family.
Likewise, modern radiators are far more efficient and are controllable, allowing homeowners to alter the temperature in different rooms. There is no need to heat empty rooms to the same level as those occupied. 
If you would like to find out any more information on how Booth Heating can help you, give them a call on 01204 408707