Top Tips on wrapping your Christmas Presents from Craft Twinery
The traditional art of wrapping gifts is a joy to see and a joy to receive as many people will do in a couple of weeks.
Before the days of sticky tape gifts and parcels were wrapped and secured with string, twine, or ribbons. Why not make your Christmas Gifts even more spectacular with some of the very many strings and twines supplied by The Craft Twinery, doing so will enhance the pleasure of the person receiving it and make it easier to unwrap.
How long is a piece of string, or twine? As long as you would like it to be. Call into The Craft Twinery and be amazed at the many varieties that are available and in beautiful shades too.
The Craft Twinery has an almost unbelievable range of twines and strings for every conceivable purpose. Wrapping Christmas Gifts and Parcels is going to be so much more fun.
Beautiful Bakers Twine, for example, is a premium Cotton Twine that can be purchased in more than thirty colours. Bakers Twine is a natural fibre, and biodegradable, easy to use and can be recycled in the home or garden long after the big day.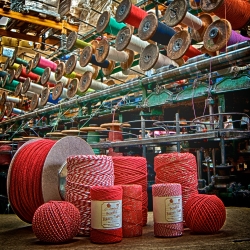 So, what is the best way to wrap a parcel?
NB. If your gift is going overseas, you will have to be quick, as the folks at the Post Office need time to send it onwards for you.
Use top quality strong paper. If you are wrapping a gift for Posting, wrap it in Christmas paper and secure it with decorative Butchers Twine, wrap it again with strong brown paper and don't forget to pack it well so it can't break. Christmas wrapping paper is not ideal for posting or sending by parcel delivery company.
Always measure the gift against the wrapping paper to ensure that it is large enough, don't forget the ends or your gift will stick out. The parcel needs to be completely wrapped but avoid excess because that is wasteful.
For those of us who cannot cut in a straight line, try folding the paper in a crease then cut along the crease.
Use clear labelling, writing on the Christmas wrapping paper may be illegible, to help the delivery person and to be sure the gifts goes to the right person by using a plain white label clearly addressed so there are no errors.
Make sure you pay the correct postage by going to your local Post Office and getting the parcel or package weighed.
Avoid using plastic, natural cotton twines and string are so much more satisfactory in every way and it will not cost the earth.
If you would like any more information about the fantastic range of twines from Craft Twinery, give them a call on 01204 897642