Spring upon us and the worst excesses of Winter, hopefully, are behind us. Getting in trim by removing the excess gained over the Christmas period and shaking off the shorter daylight torpor is a priority for many of us.
Now is the time to galvanise ourselves and launch into a fitness and exercise regime, and to attend to the lifestyle changes that may help, diet, cut out the smoking, and plan of sensible activity.
Kept Fit is the excellent gym based in Dunscar Business Park, offering professionally run personal training workouts for individuals and groups.
Kept Fit is a non-traditional gym that specialises in personal training, tailored strength and conditioning workouts for individuals and for groups of all ages and ability levels.
Because people are individual in their needs, ability levels, and levels of fitness, and medical condition, it is vital that professionals are involved with getting back to health and fitness to ensure that unnecessary risks are not taken.
Simply going out and having a run may cause more damage than good after months (years) of inactivity, because sudden bursts of physical activity without supervision may precipitate serious harm.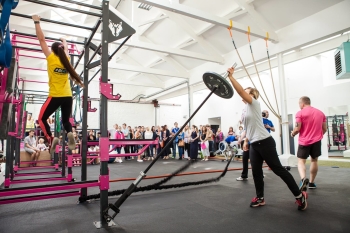 Kept Fit's team of trainers are passionate about health, fitness and well-being and have individual specialisms. This allows them to find the perfect personal trainer for each person whatever their personal needs may be.
People looking for weight loss, toning, muscle gain, improved performance, or other individual needs will be looked after with care and consideration. The Gym's Trainers will measure the composition of one's body as well as assessing your posture, the body's movement patterns and body fat %, and will assign exercises and routines accordingly.
The Kept Fit Gym is unlike any other in that it doesn't have running machines, cross trainers or bikes, they prefer to concentrate instead on all over fitness and strength training. Kept Fit is a conditioning studio and supervised open gym specialising in tailored group workouts training the body as a whole, in as many varied ways as possible.
The Management wish people to have a personal and challenging experience every time they train at the gym. There will be daily and weekly planned training sessions devised by their personal trainers for you to follow as part of a group or on your own.
Kept Fit Trainers are always in attendance to ensure that people train correctly and do not over do it! That way they can be sure that you are constantly progressing and achieving your goals, safely.
Kept Fit Gym Bolton urge people to start now with a pre-Summer body programmes designed to help people enjoy themselves during the Summer.
If you would like any more information about KEPT Fit, give them a call on 01204 308250