A virtual assistant (VA), is generally someone who provides professional administrative, creative, or technical support to a client on a self employed basis; and works remotely from their own office.
So what is the point of using the services of a VA?
Here's a scenario that most small business owners and sole traders should be able to identify with:
You set up the business because you're good at your trade or you have a keen interest in what you're selling or the service provided.  However, there are so many other things that you need to do to run your business that take priority over the reason you set up the business in the first place.  Let's face it; there just isn't enough time in the 9-5 to handle everything, so the likelihood is that you're missing important new clients, productivity is low and there's little business growth. Therefore, your 9-5, 5 day week is more of a 24/7 as you're working most evenings and weekends to keep on top of everything.
If the business is not quite ready for expansion, it may be worrying to consider employing staff, and moving to bigger premises; so this is the perfect time to look at outsourcing some of the work.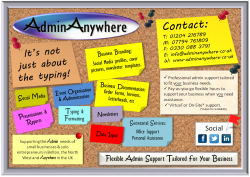 Outsourcing the admin to a Virtual Assistant, is the ideal solution for that troublesome office work: customer contact details, invoicing, correspondence, keeping on top of the emails, business documentation, social media updates, etc.  The VA works for, and represents your business when there's work to be done.  Just like a normal PA/secretary, but without the employment legalities. Everything can usually be done remotely from the VAs office, so by hiring a Virtual Assistant you avoid the need to rent and equip office space, as well as avoiding all the employment costs and legal and training requirements that go with employing staff.  You just pay for the time worked doing the type of admin services you need doing. And you're not paying for someone to twiddle their thumbs when there's a quiet time in the business.
Julia at AdminAnywhere is a local Virtual Assistant and a valued member of thebestof Bolton.  Julia has an office admin career spanning over 30 years, so has a wealth of expertise at her fingertips, to tailor the support to suit your business.  Support is available for small, one-off tasks through to a regular part time business admin service.  She works from her home office in Bolton, but is also available to work on site for local businesses if you prefer (and have the facilities).  After all there are always some office jobs that you just have to be there to handle.  You pay an hourly rate for the admin work handled, without being tied into formal employment contracts. 
Why not give AdminAnywhere a try. 
Julia offers a free, no commitment, 2 hour initial consultation meeting to discuss and analyse what support your business needs. 
What have you got to lose and gain for your business?
Contact Julia on 01204 216789 or email julia@adminanywhere.co.uk