Musical Invitation to Cancer Patients
8th January 2015
... Comments
---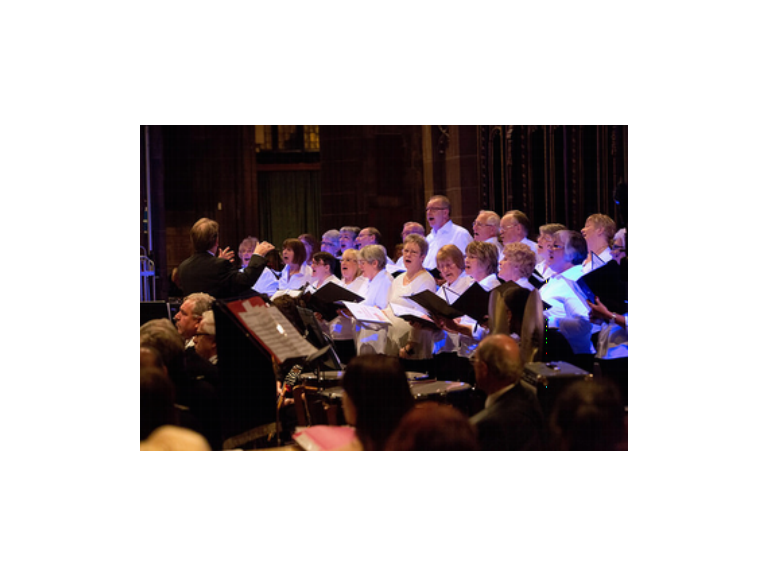 A musical invitation is going out to cancer patients across the North-West to join the region's only dedicated Choir for cancer patients and cancer survivors.
Fresh from their hectic festive programme, which saw the Choir present their second 'Jingle Bell Sing-A-Long' concert in the Victoria Hall accompanied by the renowned Besses o' th' Barn Band; record their first CD and appear at the annual Christmas Celebration of Greater Manchester Police held in Manchester Cathedral, where they appeared before an audience of around 1ooo people alongside Greater Manchester Police Band and Fanfare Trumpeters, Cheshire Constabulary Drum Corps and other guest entertainers, the Choir is greeting the New Year with a recruitment drive to introduce more cancer patients and cancer survivors to the inspirational and therapeutic powers of song.
Membership of Bolton Cancer Voices is open to cancer patients and cancer survivors regardless of the time since their diagnosis. The Choir accepts people from any geographical area as long as they can get to the centre of Bolton for rehearsals, which take place on Monday evenings, 7.30pm-9pm: and to ensure the Choir is accessible to all no previous singing experience is required; you don't need to be able to read music; there are no auditions and no membership fees to worry about.
Karen Elliott, Chair of Bolton Cancer Voices said: -
'We are having a real push to recruit up to our optimum membership number of 70. At the moment we are particularly in need of more men and ladies with a high vocal range to join our sopranos but everyone with enthusiasm and a love of singing would be most welcome.
Sadly today, as every day, many people across the North West will receive the devastating news that they have cancer. Bolton Cancer Voices provides a unique form of support in an environment where members have fun, enjoy the challenges and exhilaration of performing and have a focus aside from their illness. We really hope that people will feel inspired to come and join us whatever stage they are at in their cancer journey.'
For membership enquiries Karen can be contacted on 01204 595562 / 07773 164235 or email boltoncancervoices@yahoo.com