KEVIN DAVIES CHAMPIONS LOCAL FATHER FOR COMMUNITY AWARD
23rd July 2012
... Comments
---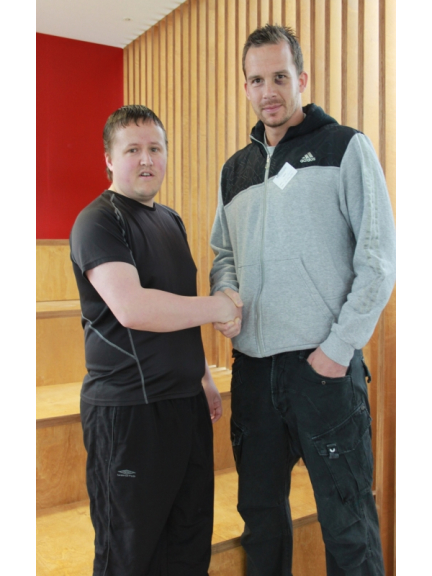 The Community Learning Awards, which are organised by Bolton College, recognise the outstanding work and accomplishments of students across the College's four main community centres: Brownlow Fold, Deane & Derby, New Bury and Westhoughton.

Brian Palin, 31, was nominated after attending the College's 'Family Learning' course, which is supported by Kevin's charity, KiDs of Bolton, and local school, St Catherine's Academy.

As a result of attending the 'Kids and Dads' family coaching course, Brian has developed a variety of skills and achieved a Sports Leaders Award. With encouragement from Family Learning and Kevin, he has gone on to take an FA football coaching award, runs a weekly training session at St Catherine's, and volunteers as a coach at children's football club, Breightmet Wanderers.
Speaking about the award, Kevin Davies said: "When I heard the College was holding an awards evening dedicated to community learning, I didn't hesitate in putting Brian forward. Since attending the KiDs of Bolton Family Learning project, Brian has gone from strength to strength and is passing on the skills he has learned."

Jayne Tramontana, Curriculum Leader of Family Learning at Bolton College, said: "Brian is an active and loving dad, who joins in with all the courses and activities that the College has to offer. He is absolutely committed to supporting his children and was a brilliant learner on the course."

Brian's son Marc, 12, who went on the course with him, said: "It made me really proud that my Dad came into school to train us. On the course, he came to every single session, and I love playing football with him."

Kevin added: "My ultimate dream from the project was to help children experience positive and active male role models. Brian has achieved so much; he is an inspiration, not only to his own children, but children in his local community as well. This is exactly why I wanted KiDs of Bolton to get involved in this project, and if he carries on as he has been, Brian will be more qualified to work in football than me!"

For further information on Bolton College, visit www.boltoncollege.ac.uk