JULIE ROBINSON WINS "OUSTANDING WOMAN IN BUSINESS" IN E3 BUSINESS AWARDS 2016
7th June 2016
... Comments
---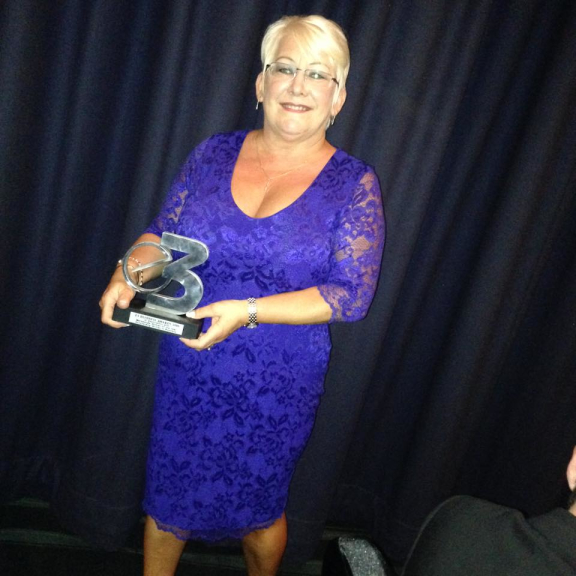 Julie Robinson, the Chief Executive of Bolton based Alliance Learning has been named "(Outstanding Woman in Business) of the Year" at the 2016 E3 Business Awards. The event took place on 3rd June at the Macron Stadium in Bolton.
Alliance Learning is one of the North West largest independent training providers and has been delivering Apprenticeships and training since 1966. Julie faced intense competition from nominees across the North West but took the title thanks to a strong written application, followed by an equally impressive performance during the judges' interviews. The award was presented by Jean Gadsby – Merseyside woman of the year.
Receiving the award, Julie Robinson said: "Receiving this is an honour & a privilege and I would not be where I am today if it wasn't for the support and encouragement I receive from my staff every day."
Speaking on behalf of 1 Events Media, which hosted and organised the awards, Managing Director Mubarak Chati said: "Julie, should be very proud. In 2016, the E3 Business Awards attracted the highest number of entries - and probably the highest calibre of entries - that our judges had ever seen. To win against such impressive competition really means something.
"As the host of the Awards, we were left in no doubt that the North West is home to some huge talent. Companies, social enterprises and individual entrepreneurs are doing great things for the region's economy, its people and its communities. Julie is a great example of that and I'm delighted that the Awards are helping her to achieve the recognition she deserves."
More information about Alliance Learning can be found on its website – www.alliancelearning.com – or by calling 01204 696744.
More information about the E3 Business Awards, including a full list of winners, can be found at www. e3businessawards.co.uk.