How The Craft Twinery can help you with your craft project!
The Craft Twinery of Bolton is the home of British made craft twines and similar 'strings' with which to make exciting and colourful end-products.
They stock what is possibly the largest range of crafting twines, ropes, cord, and a good deal more in the most beautiful colours and materials. Their lovely range is available online, where the vast number of types, colours and strengths are detailed in full. The Craft Twinery believe that crafting shouldn't be vastly expensive and by working directly with the manufacturers they are able to pass on savings without losing quality.
What is available from The Craft Twinery?
Craft Twines including the Beautiful Butchers Twines range with patterns from Candy Stripes to Metallic and sparkles for those special creations.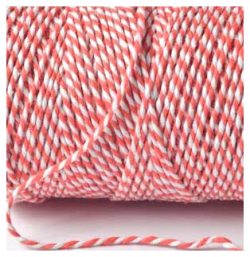 Food-safe Rayon Butchers Twines in a variety of colours.
Jute Craft Twines, plus polyhemp twines for upholstery, strong sisal twines for packaging, and polypropylene for home/office and decorative ribbons.

Craft String, British made and available in a variety of diameters, standard and polished cotton string, cotton craft string and macramé twine. Coloured cotton string, parcel string, jute string, garden string for securing plants, and general-purpose household string in balls, spools or tins.
Craft cord,
Coloured cotton 'Baker's Braid' cords available in all the colours of the 'Beautiful Baker's Twine' range. These cords are ideal for use in projects for crafters requiring a thicker and stronger product as an alternative to smaller diameter twines.
Polyester braids, commonly known as blind cord, in a range of colours, these are ideal for use in the production of Festoon Roman and Austrian blinds.
Braided and twisted piping cords in natural cotton and polyester for use in upholstery and clothing projects.
Craft Rope, The Craft Twinery is one of the UK's leading suppliers of ropes for the home hobbyist and interior designer.
Hollow cotton braids, one of the largest ranges available online and available in all the colours of the 'Beautiful Baker's Twine' range. Although, originally intended for use as magician's ropes, the coloured braids are perfect for use in arts and crafts and interior design projects and have been used by high street names such as Nando's.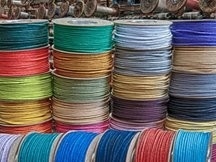 The Craft Twinery also stock a comprehensive selection of traditional three strand ropes in cotton, sisal, manila, hemp and polyhemp, perfect for those craft projects where a traditional feel is required.
If you would like to find out more information about the products that The Craft Twinery stock, visit their website  here