Have you seen the all new Kia Stinger?
The All new Kia Stinger was unveiled recently and Bolton Kia ,the UK's No.1 Kia Dealer are so proud to announce that they will be stockists of this vehicle!
Once it arrives, The All New Kia Stinger will be on display at their spacious modern Showrooms at Middlebrook Retail Park and is available to buyers to take a long hard look and a test drive if they wish.
Introducing the head-turning All New Kia Stinger: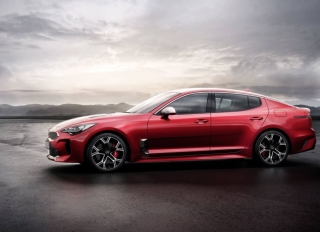 This superb car is a GT in spirit, the All New Kia Stinger is built for the thrill of driving for the discerning motorists who love driving a fine car. The stylish design is eye catching in its flair and panache.
The high-performance power plant under the bonnet will thrill with its 0 to 62mph in 5.1 seconds, having 365 bhp 3.3L turbo charged v6 power unit. Performance like this can get you out of trouble quickly and for general motoring allows the luxury of comfortable cruising.
There are two additional engines available, a four-cylinder petrol 2L plus a diesel model. Gear boxes available include an eight-speed automatic, rear-wheel drive, and a six-speed manual transmission for those who prefer manual boxes.
The All New Kia Stinger carries the distinctive radiator grill, and sports led headlamps. Plus, for those travelling in your wake there are led rear lights too.
Inside the car, the interior trim is attractive with its 'D' shape steering wheel, red led illumination and easy view dial cluster giving drivers heads-up on all relevant data.
Such is the confidence shown by Kia that their entire new car range carries their famous 7 years' warranty, showing trust and confidence in the production quality of their manufacturing operations around the world. This confidence in the quality of their products and the high productivity in the Kia factories means they are able to pass this confidence on to their customers.
Look out for the all-new Kia Stinger coming in 2018! If you would like to find out any more information, give Bolton Kia a call on 01204 664800