Get involved with the BYPHS charity sleep out!
20th March 2017
Author: Gaynor R
Comments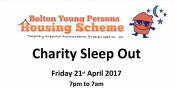 Bolton Young Persons Housing Scheme is a fantastic local charity who accommodates 320 young homeless people every year, and they have just launched a new campaign!
The team at BYPHS are looking for people to join them, and sleep outside overnight to raise awareness and money for homelessness.
The Charity Sleep out is taking place on Friday 21st April 2017!
BYPHS need vital funds for extras beyond housing such as food, electric, ID, clothing, college equipment, sanitary products etc all for young people.
Maura the Director at Bolton Young Persons Housing Scheme will be staying out overnight herself.
If you would like to get involved, give BYPHS a call on 01204 520183, or if you're unable to sleep out, any donations to the campaign would be greatly appreciated.
You can visit Maura's JustGiving page here