Funding for 'hard to reach' victims of domestic abuse
17th December 2015
... Comments
---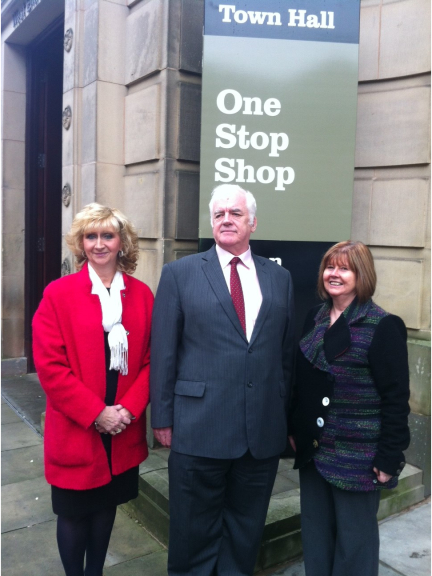 Bolton Council and local partners have been awarded Government funding of £82,000 to provide bespoke support for victims of domestic abuse plus improved access to a refuge and housing.

The funding will allow the organisations concerned to offer additional support to victims and will increase the number of bed spaces available to victims.

It will also be used to support victims of domestic abuse who are the hardest to reach, including male victims, children, victims from black and ethnic minorities, lesbian and gay victims and those with mental health issues and chaotic lifestyles.

Male victims of domestic abuse will be offered supported accommodation, as well as specialist practical and emotional support. Specialist outreach workers will also work with victims of domestic abuse with chaotic lifestyles in the community who are often left unsupported. A dedicated mental health worker will also be appointed, whilst a dedicated black and ethnic minority coordinator will also offer one to one support to victims from ethnic minorities.

The cash boost from the Government will also mean that children can be better supported, through the creation of a specialist post, which will continue working with children for a short period immediately after they leave a domestic abuse refuge. Children and young people will be supported through the short transition period from the refuge to a new home, helping them to become embedded in the local community.

The funding has been awarded to specialist service providers via the Bolton Domestic Abuse and Violence Partnership. This Partnership brings together statutory and community & voluntary sector organisations, including GMP, Bolton at Home and Public Health to deliver Bolton's Domestic Abuse & Violence Strategy.

The Partnership will oversee the implementation of the grant funding and ensure all aspects of the project are delivered and results are monitored. Fortalice and Paws For Kids Endeavour Project will deliver the provision.

The partnership hopes that all of the above work with the hardest to reach victims will enable the provision of a further 60 bed spaces across the borough.

Councillor Derek Burrows, Bolton Council Cabinet Member for Community Safety said:" We are pleased that the Government has recognised the importance of supporting victims of domestic abuse, especially those who are harder to reach and help. This funding will allow us to offer bespoke support for different types of victims of domestic abuse. It will also allow us to continue to support victims when they have left a refuge and provide help for them in the community, reducing their need to return and freeing spaces for new individuals."

Gill Smallwood, Director of Services at Fortalice said: "We are delighted that the Government has recognised the importance of providing support to all victims of domestic violence. This funding will help us to provide better outcomes for all victims and children."

Carole Marsden, Director of Services at Paws for Kids Endeavour Project said: "This is great news and will enable a more joined-up approach to service delivery for victims, as well as ensuring that we are able to support all victims of domestic abuse in Bolton."