Come and try one of the best burgers in Bolton!
Grillicious of Bolton was created for those people who are passionate about good food and who love Burgers and Grilled Food to takeaway.
Better still, Grillicious specialise in Gourmet Burgers at sensible prices, mouth-watering good sense and great value for money! This is Gourmet cuisine adapted for the take-away customers who want top quality food on the go, or a fabulous meal whilst watching 'Match of The Day' – the Football Season is about to kick off, so a Burger or a Grill and a cool drink will make your day!
What tasty treats can you buy at Grillicious?
There are plenty of choices in the extensive menu, with a varied selection of food and drinks to take out.
Wraps to burgers, hotdogs and steaks, kebabs, tortillas and salads galore including vegetarian alternatives,
Hungry?
Try the Delicious King Kong Burger Meal with a Gorilla Thriller milkshake!
Grillicious Signature dishes include: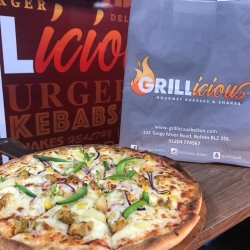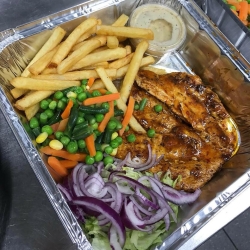 Steaks, Chicken Steak, Sirloin Steak, Mixed Steak, Chicken Parmesan and many more.
Chicken whole, half or quarter, great with Peri Fries,
Mini Cheese Burgers,
Chili, some do like it hot!
Peri-Peri Wrap Meal
Pizza – A huge range of delicious pizzas, calzones and garlic breads,
Salads, Greet Salad, Peri Peri Salad, Regular Salad and Steak Salad.
Plus, special fries, cheesy fries, chilly cheese fries, donner kebab, peri fries, creamy mash for those who wish to add on.
Why not try the hearty and very popular Rodeo Beef Burger Meal?
Your choice of main meal can be enhanced with sauces including, Ketchup, BBQ sauce, garlic mayo and more exotic options including Spicy Honey, Tandoori, and Perinaise. With Salad, grilled wings and tortillas to suit your taste.
Afters? There is a delightful selection of desserts and drinks available for those with a corner to fill
Not sure what you fancy? Just ask the team at Grillicious or stick with the classic options such as a Beefy Burger and sides, you will not go hungry or disappointed. Rest assured there is a Grillicious Chef cooked hot and fresh special for everyone.
The Management team at Grillicious believe in giving exceptional value for money along with good customer service. The Team are dedicated and passionate about creating enjoyable food that is so good it will have you rushing back again and again as do many of their highly satisfied customers. With such dedication and on going training Grillicious is outstanding.
Grillicious is located in Tonge Moor Road, Bolton making it easy to access and Grillicious is open as follows,
Monday – 4:00pm-11:00pm
Wednesday-Thursday – 4:00pm-11:00pm
Friday-Saturday – 4:00pm-12:00am
Sunday – 4:00pm-11:00pm.
Tuesday – CLOSED
If you would like any more information, give Grillicious a call on 01204 774567