Broken phone or iPad Screen? I'm Fixed will Fix it!
I'm Fixed of Bolton offer specialist repair services for iPhones, iPads and Android devices and it is remarkable what an effective and speedy job they can make of restoration. Almost all of us carry one or two devices with us during our business and professional lives and for private communications in our day to day activities and social life, most of us would be lost without the lifeline that a mobile device allows us.
I'm Fixed Ltd is an independent local business offering services that include, replacing cracked and broken screens, a top-quality iPhone repair service by their experienced technical team, unlocking iPhones and other handsets to get you back to normal should you get 'locked out' and other rescue and repair services as required. As part of their professional ethos they take great care of all devices that are left with them, their customer service is first class.
I'm Fixed provide a 6 months warranty on device repairs to ensure that the item is properly fixed and working to your complete satisfaction. The warranty gives confidence to their customers and underwrites the confidence that I'm Fixed have in their technical skills. I'm Fixed are proud of the trust placed in them and of the very reliable technical repair specialists and of their reputation for excellent workmanship and they work hard to protect their reputation by giving each customer their total attention and support.
Services offered by I'm Fixed includes: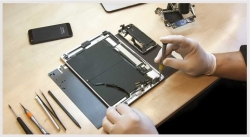 Damaged Screen Repair, sat on your mobile? A new screen can be fitted probably from stock,
Body Frame Damage Repair, body shell replacement when the damage is too great to repair,
Battery Damage Repair, if the damage is substantial involving all of the above ask I'm Fixed for advice about what is the best outcome a new iPhone or a repair,
Water Damage Repair, water can cause severe damage and takes an expert to save the data and restore normal service – where possible.
Android phones can also be repaired by I'm Fixed, including all of the above, plus
Charging Port Repair and replacements,
Replacement camera
Replacement Microphone and Speaker
Home and Volume Button Replacement
A good many other issues may be sorted out quite quickly, if in doubt call and ask for advice. The Team at I'm Fixed will have you back in business as quickly, and cost effectively, as possible.
So, if your iPad, iPhone, or Android has been damaged, run over with the car, or dropped in a puddle all may not be lost. Call into I'm Fixed, the team will do their best to have you up and running as efficiently as is possible, you can give them a call on 01204 520520