Bolton Whites Hotel - A Great Place to do Business
Bolton Whites Hotel offers business conference and exhibition facilities right on the motorway hub but without the hassle associated with our larger neighbour.
Bolton Whites Hotel complex stands no more than one minute from the M61 and only a few minutes from central Bolton. Being at the heart of the North-West Business Community they can offer fantastic, state of the art, exhibition and conference space with access to masses of parking.
Bolton Whites Hotel Premier Suite, is a multi-functional space that can be adapted to just about any format.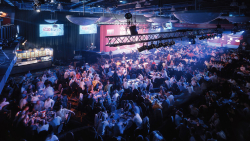 Theatre Style seating for conferences, product launches, corporate events and so many more with comfortable seating for 1500 delegates, students, trainees or shareholders attending a major PLC AGM.
Dinner seating for 1200 diners, for a corporate event, conference or large scale business meeting, or a celebration,
Exhibition space, the Premier Suite at 73.5 meters long and 31 meters wide can accommodate a substantial number of display stands for exhibition purposes, indeed the space can be adapted to suite most requirements.
Cabaret seating for 700 people provides a splendid alternative, that can be used for a show or for prize awarding ceremonies, etc.
The space at Bolton Whites Hotel is a massive business opportunity for the entrepreneurs of the Town, and beyond, to put on a great show.
Amenities include:
Reception Space for 5000 persons,
Gala Dinner seating for 1200 persons,
High-spec flexible event space with vehicle access,
Dedicated cloakrooms and restrooms,
Mezzanine floor adds 1000sqm extra space to the main rooms 2500

sqm

Black-out drapes and star cloth,
Access to 24 syndicate or breakaway rooms to host 10 to 550 delegates,
Uninterrupted floor space,
Natural daylight,
Variable load bearing points up to 500kg.
Ambient lighting,
Advanced air circulation system.
Bolton Whites Hotel also offers complimentary wi-fi throughout the venue.
In addition, Bolton Whites Hotel has 125 modern bedrooms, all with en suite bathrooms in which to accommodate attendees in excellent style and comfort.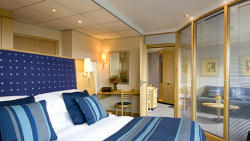 Bolton Whites Hotel offers fine dining in their main restaurant, Reflections. Head Chef Paul Heathcote, two times Michelin Star Winner, and his team work hard to create perfection on a plate for diners, and of course there is the delightful Pure Bar in which to relax after a busy day.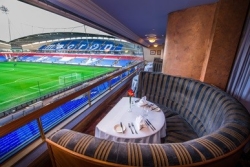 If you would like any more information about Bolton Whites Hotel, give them a call on 0844 248 2345