Bolton Cancer Voices holds full scale recruitment
13th August 2013
... Comments
---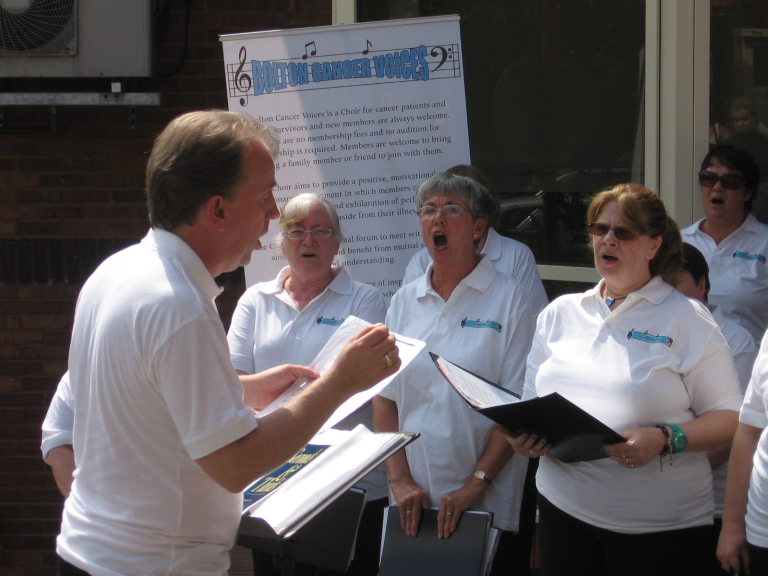 Bolton Cancer Voices is holding its largest ever recruitment drive in a quest to find thirty new members. The only known Choir for cancer patients and cancer survivors in the north-west of England is seeking to double the size of its membership during the next few weeks in preparation for an exciting announcement of their next project due to be revealed towards the end of this month.
The Choir which is the brainchild of its Chair – Karen Elliott, was established just over a year ago. Anyone can join at any point in their cancer journey whether newly diagnosed, in treatment, living with cancer as a life-limiting condition or a cancer survivor no matter the period of time that has elapsed since treatment. Though Bolton based the Choir is open to people from a wider geographical area as long as they fulfil the criteria for membership and are able to travel to Bolton for rehearsals. Previous singing experience is not necessary, you don't need to be able to read music, there are no auditions to worry about and no membership fees; people just need enthusiasm, a willingness to learn and the desire to have fun.
The Choir works under the baton of a very experienced and popular Musical Director – Clive Rushworth, who takes a relaxed approach to rehearsals making learning easy and enjoyable no matter what people's level of experience and Clive has recently been joined by Mark Foster in the role of Rehearsal Pianist.
Karen Elliott said: -
'When people receive a cancer diagnosis it can feel that life is spinning out of control and even after treatment is complete the consequences may continue to be felt. The Choir aims to provide a positive, motivational and diversionary environment in which members can have fun, enjoy the challenges and exhilaration of performing and have a focus aside from their illness; it also offers an informal forum to meet with others in a similar situation and benefit from mutual support and understanding. We want Bolton Cancer Voices to be a source of inspiration; if cancer has touched your life why not let music touch your heart and raise your spirits, even if you've never thought about singing before come along and give us a try.'
Rehearsals take place on Monday evenings 7.30pm - 9pm at the Friend's Meeting House, Silverwell Street, Bolton; anyone interested should contact Karen on 01204 595562 / 07773 164235.