Barons of Beef butchers, Bolton, experience record sales in July
5th August 2013
... Comments
---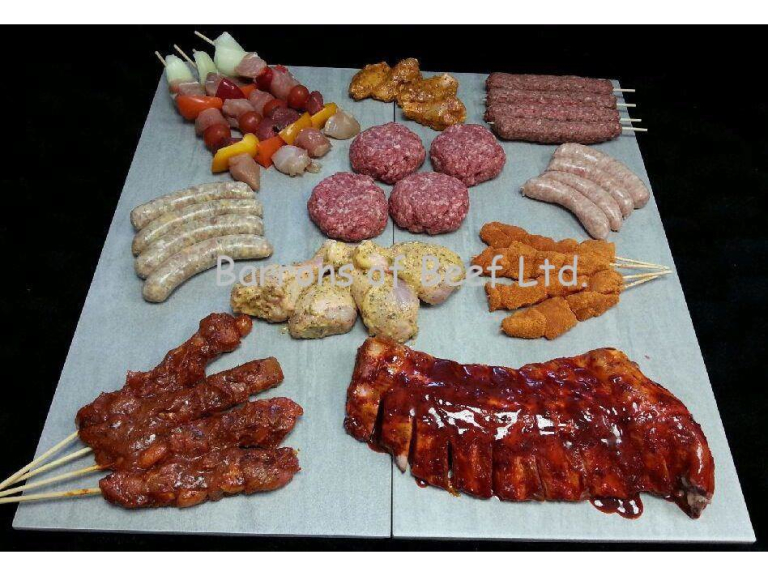 Barrons of Beef never seem to have a quiet period. At Easter their customers love lamb and of course Christmas time sees customers buy their turkey roasts.
But this warm weather has seen the team at Barrons of Beef experience some record sales. On one day in July, they sold 1,400 burgers in one day. Not only that, over the week they sold 4,000 kebabs in a week and 4,000 sausages. That equates to between 400-500 pounds of sausage. All the 9 varieties of kebab were made by hand.
Ever since the launch of their Facebook page, the demand for Barrons of Beef meat packs has only increased. In the first week they launched, there were only 35 orders. But that number has increased dramatically, culminating in the numbers we listed earlier. There's always enough to go round so don't panic.
Barrons of Beef work incredibly hard to ensure there are enough packs and meat for their customers. On some nights they begin work at 2am and don't finish till late in the evening. 12 hour shifts aren't uncommon for this hard working bunch, so if you ever see them out and about, offer them a brew, they'll need it.
Barrons of Beef low fat packs are a real must try if you've never had them before. These are available for only £40. You can have it collected or delivered from the shop and contains
2 x 7-9oz sirloin steaks - trimmed and lean
2 x 5-7oz extra lean lamb steaks
2 x 6-8oz extra lean pork steaks
2 x 6-8oz extra lean gammon steaks
2 x flash frying steaks
2 x 7-9oz chicken breasts
1lb diced chicken
1lb extra lean stewing steak
1 jar Ale and mushroom casserole sauce
1 jar Neapolitan sauce 
1lb extra lean minced steak
They also have a great offer running with their meat packs. See below for the details of that.