AutoSport Direct of Bolton - More Than Just Alloy Wheels
AutoSport Direct is our local One-stop Shop for Alloy Wheels, Tyres, Lighting and a good deal more besides.
AutoSport Direct is located on St George's Road in Bolton, with an outstanding showroom displaying their vast range of products and their attentive team readily on hand to assist you in your browsing. Customer service is a keynote at AutoSport Direct which is greatly appreciated by their many customers who have given them Five Star Reviews.
Autosport's Direct is a family operated business, that was founded in 1997, and is going from strength to strength to this day. The Company has specialised in supplying top quality products at sensible prices.
AutoSport Direct is the name providing specialised services in Alloy Wheels, High-Performance Tyres, Body Styling, New and Part-worn Tyres and Lighting.
Specialities available at AutoSport Direct,
Alloy Wheels, OZ, Rota, Judd, Wolfrace, and many more. The experienced team take a very hands-on interest is their customer's requirements and are passionate about providing high-end service. There are 700 plus wheels on display, with hundreds more to suit just about every car on our roads just browse the showroom, or take a look at the virtual showroom on the website here, the choice is outstanding!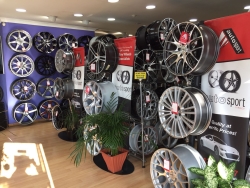 Tyres, they can supply hundreds of tyres from stock for a variety of cars including, Mercedes C Class, Ford Transit Vans, BMW X5 and other 4x4 tyres and tyres for Motor Homes too.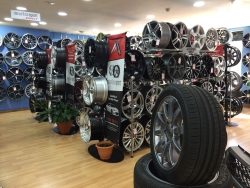 Refurbished Alloy Wheels, a good way to repair and freshen up the look of your car, very cost-effective, and very safe too. 24 Hour turnaround.
AutoSport Direct supply a large range of car lights suitable for all vehicles. Customers looking to give their car a new upgraded look, AutoSport is the place to go!
In addition, AutoSport Direct can supply Nuts and Bolts, tuner style with keys, locking wheel nuts and bolts and rust covers too. Sold in all quantities, 
Spacers in stock, they sell and fit all types of spacers. Whether you are looking for hub-centric wheel spacers, rear-wheel spacers or wheel spacers for the front of your car.
And, a wide range of high-quality spigot rings suitable for most aftermarket wheels. When selecting new spigot rings for your vehicle, it is important to purchase them from AutoSport as they specialise in alloy wheels and have experience in this area.
Plus, AutoSport Direct stock most styles and sizes of centre caps and with different clips. 
If you would like to find out any more information about AutoSport Direct, give them a call on 01204 397177