Adding a Touch of Glamour to Any Space, Lovingly Crafted by Allumi
Allumi is a Local Company run by Ally Houghton. Ally has been an interior designer for over 25 years and has recently launched her home fragrance range 9 months ago after a few years of researching beforehand.
Allumi has assembled an amazing collection of fragrances to enhance any home or people space. Lovingly handcrafted in the Heart of Britain Allumi products are rich with essential oils that have been personally selected by Ally and blended by some of the finest perfumers in the Country. This beautiful range of home fragrances is suitable for all as they are produced free of harmful chemicals. Using essential oils that enrich the fragrances they have the power to lift the spirits and warm one's heart. As the gorgeous aromas infuse your space the exquisite oils will soothe your mind, tired body and flagging spirit to uplift and refresh you.
What can I buy from Allumi?
Zen collection is deliciously warm, dark and sensuous, with a rich fruit medley of pomegranate and plum, with delicate floral undertones, warmed with amber, geranium, sandalwood, lavender, patchouli and musk.
Zen is a harmonious blend designed to release one's stress and help discover your hidden senses.
The Zen collection items are encased in hand finished black glass embellished with gold accents. The perfect gift for the discerning person who adores beautiful things.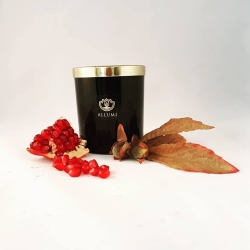 Energize collection is a refreshingly sophisticated citrus chypre with bergamot, patchouli and basil, top notes of tangerine, mandarin, lemon, lime and neroli warmed with herbal and woody accents.
The Energise Collection is encased in hand finished silver patina glass embellished with polished silver accents. This wonderfully vivacious fragrance will add sparkle to that special gift for someone special.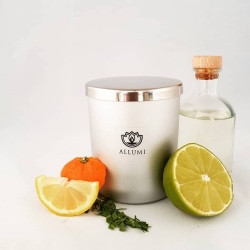 For those of us who fall in love with Allumi products and have an entrepreneurial flair, there are business opportunities with Allumi as an Ambassador enabling you to share your love of beauty and meet many exciting people in the process whilst earning an income.
To find out more about Allumi, please click here