5 Top Tips on Planning the perfect bathroom
For most people their bathroom is a highly personal living space within the home that needs to be both functional and comfortable, a friendly place where one can relax during a hot soak given chance.
Busy lives tend to encroach on our quiet time, so for many of us a quick and easy bathroom experience is key. The important issue is planning, to ensure that the space is well used, efficient, satisfies ones every need, and is a nice place to be.
So, what do we need to include in the plan?
How large is the available space, logistics do play a large part in any plan, use graph-paper or a pc based design programme if you have access to one. Map out the floor area and establish what goes where.
Tip. Don't overdo it, if the floor area is large all things are possible, wet room, free-standing shower cubicle, bidet etc., if however, the space is limited remember that space is at a premium, choose smaller sanitary ware, combine the shower with the bath, keep walkways free so you have room to move freely.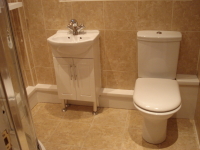 Bain Plumbing Services will be happy to do the planning for you, with your input of course, thereby taking the strain away from you.
How many people will use it?
A family bathroom will differ in some ways from a bathroom for a single person or a couple in that the early morning rush may be less chaotic.
Tip. Build this into your planning, smaller children will love to sit and play in the bath, whereas older people may not require a bath but a walk-in shower, this is a good way to save space. Plus, showers use a lot less water, if one is on a water metre this is important.
Size matters
A small bathroom will become even more limited for space if not planned carefully.
Tip. Can you install cupboards on walls rather than have them floor mounted, or can you do away with cupboards all together?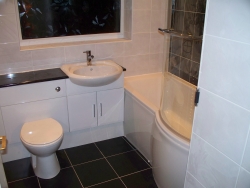 Lighting
Light in one's bathroom is important, for applying makeup, shaving, reading whilst up to your neck in hot water...
Tip. When planning, take note of where the natural light is coming from. Avoid blocking natural light where possible. Augment the natural lighting with electric light, using high-tech lighting systems it is possible to have very bright lighting in one's bathroom, just ensure that cupboard doors when opened do not block the light and that you can see into the cupboards – badly designed lighting will leave you in the dark!
Utilities. Bathrooms require electricity, water supply, drainage etc.
Tip. Ask the Professionals at Bain Plumbing Services to advise so that these issues are dealt with correctly, for your safety and convenience.
If you would like to find out how Bain Plumbing Services  can help you plan the perfect bathroom, give them a call on 01204 396669