Don't Worry, Be Hoppy.. a Beer for LeeStock is on its way
This is the third time  I have thrust myself on Nethergate Brewery to brew a beer for LeeStock.
This year we did things a bit differently. I was given control of their Pilot Brewery; a smaller piece of brewing kit, that allows the production of smaller, maybe more experimental beers. This allowed me to be more involved with the whole brewing process, from choosing  the type of malt and %abv, through to the hops and look of the beer. Obviously, head brewer Ian, is the professional and actually created the recipe, but from the get-go, I felt very much involved.
My day starts by meeting Ian who asks whether we should brew Golden Willow again or brew something completely new?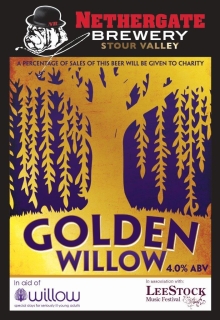 Obviously, I opted for the latter.
Although this is a charity beer, to support LeeStock and the money their raise for the wonderful Willow Foundation, I do have a favourite style of beer. That is, and probably always will be a citrusy hoppy light ale.
And that's only what we've gone and brewed!
The Brewing Process
We started by loading the mash ton with lager malt (giving the ale a light colour) and torrified wheat (which helps create the head on the beer when its poured), add the water and give it a good stir. Think porridge and that will give you a good idea of what it looks like. It's left to simmer for 52 minutes and then it's time to sparge; a process by which the grains are rinced by a rotating shower arm. The water sprinkles the grains with hot water, extracting a sweet liquid called wort. It's this wort that forms the basis of the beer. The wort is then transferred to the copper, through 2 different entry points, allowing even distribution of the liquid.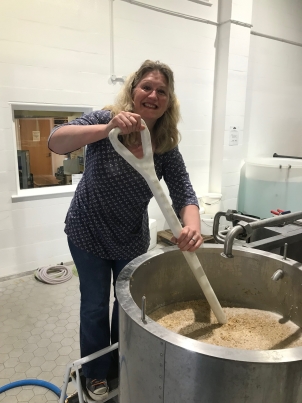 And there it stays, working its way up to boiling point. For lighter beers,as this one will be, it's important we don't boil for too long, because the shorter the boil, the lighter the colour.
So, whilst all that is happening, it's time for my favourite part of the brewing process - choosing the hops. And my favourite are from American, I know not very local, but they smell wonderful and give the beer a really citrusy taste. We chose four -  Citra, Chinook, Mosaic & Eureka.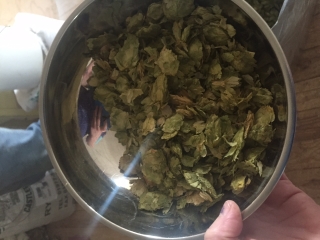 Some are added back into the now clean Mash ton and we make a massive hop like tea, leaving it  to stew for a little while. They are then strained and added to the rest of the wort. These are the aroma hops that give the beer its flavour. The rest are added at the end of the process, as bittering hops.
Finally, the beer is moved to the fermenter, along with the finings to help with the Flocculation and the yeast. Over the next week, this where the LeeStock beer will stay, with sugars turning to alcohol, ready to be served at the festival on May 25th & 26th. If you can't wait until then, there will be a limited amount on sale at Nethergate Brewery from Wednesday 22nd, so make sure you pop down there before a certain local marketing person drinks the lot *hic*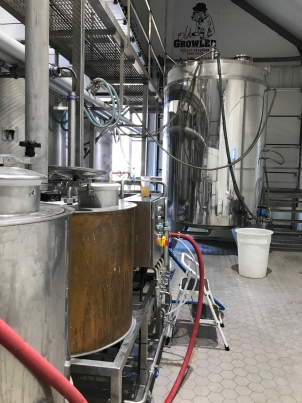 LeeStock Music Festival will be a Melford Hall, on 25th and 26th May 2019 featuring Starsailor, Rebecca Ferguson, B*Witched and many more. For the first time, the festival will feature an Acoustic Stage, sponsored by thebestof Sudbury and the business members. You can take a look at the promo video here