Checklist For A Great Picnic Part 1.
30th June 2018
... Comments
---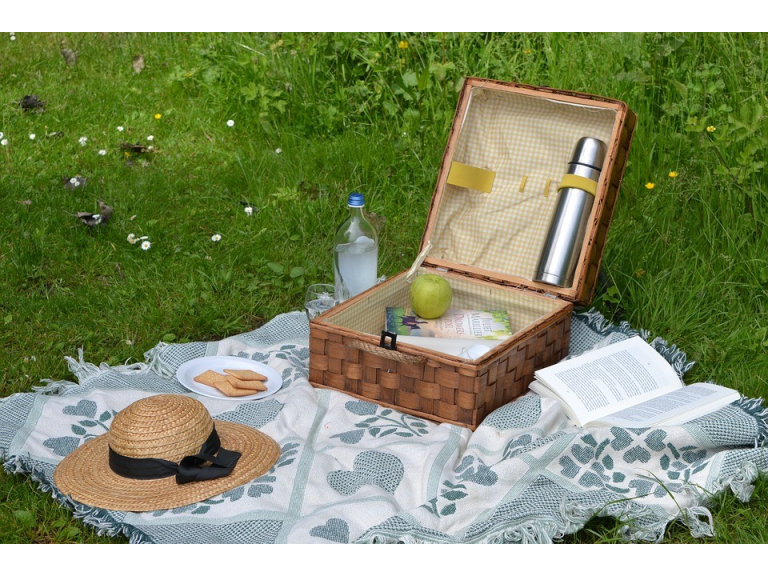 Here's a handy printable checklist for everything you need for a successful picnic...
Firstly think – lightweight everything! (Well as much as possible).  Also, it's not all about the food and drink, depending on the age range you'll need to think about seating and about your family and friends being entertained even if you don't feel like taking part!
Games & other 'stuff':
Sunglasses, high factor sun cream (you'll be outside for quite a while), anti-bug lotion or spray and maybe a citronella spray.
Blow-up beach ball, Frisbee, lightweight bats and ball or maybe a fold-up badminton set if the net can be stuck in the ground or sand.
Fold-up chairs.
Lightweight fold-up table and/or a large picnic rug.  If you're taking a rug then try to make it is one with a waterproof backing alternatively lay a (new) shower curtain underneath first.
Keeping cool:
Plenty of slim ice packs (as many as you can fit in and still leave plenty of room for the essentials).  Alternatively freeze bottles of drinking water overnight and use those to keep food cool until you want to drink them, the only thing with this is that they take up more space than slim ice blocks but they are disposable so less weight when going home.
Invest in a 3 or 5 litre insulated plastic water holder. These vary in shape and size but the most important things are that it has a rigid flat bottom and it has a tap so it can be turned on and left running for when you need both hands. A large container for water is useful for topping up drinks (important to keep everyone but especially the young and elderly) hydrated and for washing fruit and sticky hands.
Frozen ice-pops, 
Sun shade or canopy but think about how it needs to be erected and where you are going.
Food and drinks:
Rule 1 – keep it simple and easy to transport, think finger food. 
Rule 2 - Plan both the food/drinks you are taking and a good location, nothing worse than driving round and round trying to find 'just the right spot'.
Rule 3 – pack as much as possible in lightweight resealable containers to avoid messy leaks.
Rule 4 – avoid any foods that will go 'off' in the heat like Mayonnaise or become oily eg. cheddar cheese.
See Part 2 of this blog for food suggestions.
Must haves:
Serviettes / kitchen roll
Bin bag – take your rubbish home with you.
Corkscrew/bottle opener
Cool bag/box – preferably one with wheels.  With ice blocks they keep food cool and you're less likely to give your family and friends food poisoning!
Cutting board and knife although really you want to do as much prep' as possible before you leave home.
Things not to take:
A radio or music system of any kind – unless you really are miles from civilisation.
An unruly dog (or kids).
Unless allowed, candles, portable barbecues or any other fire risk.
Tips:
Make a hole in the centre of cupcake cases, poke a straw through, turn it upside down and pop over your drinks to keep the bugs at bay (or use Mason jars with lids and straws)
Freeze fruit juice/water for drinks and push it among the food they'll double up as additional ice blocks until you're ready to have them.
Use paper / plastic plates / bowls and cutlery – lightweight to carry.
Finally – Don't forget a spill proof container for food and water for your doggy friend – use containers that double up as bowls.
Please see
Part 2
for food and drink suggestions for your picnic.