Checklist For A Great Picnic – Part 2.
30th June 2018
... Comments
---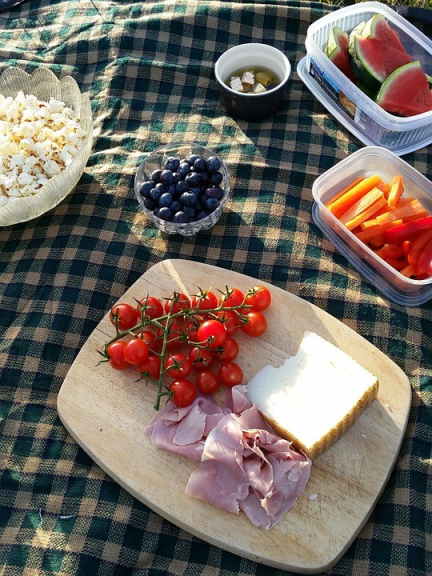 The food and drink that you take really depends on the reason for a picnic and the ages of those you are providing for.  For example, it is unlikely that a romantic picnic for two would contain the same treats as a family picnic with young children and vis versa.
With this in mind below are a few ideas for all age ranges without specific suggestions for children or romantics.  I'm not claiming that all the foods listed are the healthiest on the planet but the odd treat doesn't hurt (if you don't have an intolerance of course).
The main thing is don't stress about it! Unless there's a very good reason to make it fancy I'd always recommend keeping picnics simple and you don't need your best linen either, just a paper (disposable) tablecloth, some paper serviettes or kitchen roll, plastic cutlery and wine 'glasses' and either melamine or paper plates, bowls and cups.
Try to keep as much as possible to finger food to save on washing up.
Nibbles to keep everyone going until all the food is out:
apples, satsumas, cherries, crisps, celery sticks, bite sized vegetables and chunks of cheese (or those small net bags of various bitesize cheeses. (The fruit can double up as dessert).
Then:
Sandwiches or filled pitta bread.  If you use French stick/baguettes then keep the fillings in by wrapping some baking parchment or greaseproof paper round each one and tie with string.  Pitta pockets are ideal for filling and taking on a picnic.
Tart, quiche or flan or mini frittatas.
Meatloaf –  easy to make but do it the day before so it cools down overnight.
Mixed salad, I usually make up a Greek salad as a base and then a few extras but don't add a dressing until the last minute or the salad will go mushy.  Or sometimes I make up a sweetcorn salad and add feta, avocado and lots of herbs.
Mini sausages and/or sausage rolls, mini Cornish pasties.
Hard boiled eggs – these have got to be the ultimate picnic food, they're quick and easy to prepare and transport, yummy on their own with salt or added to salad and they even come in their own jackets to keep them clean until you're ready to eat them.
Fried chicken pieces – naughty but nice!
Some foods to avoid:
 Creamy cakes
Ice cream
Sticky puddings
Ribs
Tacos
Not only are they messy to eat, will possibly go off in the sun but will also attract flies and wasps.
Finally, don't forget:
Serving spoons or tongs for salad
Cutting knife (if needed) – wrap in kitchen roll and push into a kitchen roll tube. Or buy one with a cover.
Condiments and salt and pepper
Bin bag for all the rubbish and take it home with you to keep your favourite picnic spot pretty and safe for others and wild animals.
Please see our
previous blog
for other checklists for a perfect picnic. 
We'd love to see your photo's of your picnics, send them to us at thebestofhertfordandware.co.uk and we'll post them in a follow-up blog.