What's happening in Hastings over the Christmas period?
Sleeping Beauty - White Rock Theatre
This year's pantomime season has truly begun at the White Rock Theatre with Sleeping Beauty starring Honey G - the most googled person of the year since making her X Factor appearance in autumn 2016 - as Fairy G! Fairy G is given the task of helping Princess Aurora as she is placed under a curse by her wicked godmother Carabosse. With rapping, magic, music, comedy and special effects Sleeping Beauty will continue the White Rock's tradition of providing first-rate family pantomime in East Sussex. For information on showtimes and dates click here.
Also have a read of our review of this year's panto here.
Jack and the Beanstalk - Rye Creative Centre
Arts Council England have awarded funding to the Rye Creative Centre which goes towards a first professional pantomime for Rye - Jack & The Beanstalk - which will relaunch the Rye Creative Centre's Theatre. The pantomime will be directed by Jeremy Tustin (Les Mis European tour) and produced by professional actress Hayley-Marie Axe, performed by a cast of local professional actors and youth theatre performers. The pantomime has been specially written by local writing team Kate Tym and John Knowles (It's Not Us) and will incorporate local legends including The Ogre of Brede and The Maids of Iden and a host of locally inspired characters including Winchelsea Will and Romney the Lamb.
For information on dates and showtimes click here.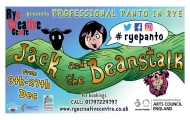 An Xmas Christmas show for Children - Kino-Teatr
Duo Bogof present their Christmas magic show for children. Joining in the festivities will be world-class juggler Paul Incredible, plus a star turn from Archie the dog! Kiki and Hillary Bogof are theatrical magicians by trade, but the Duo Bogof are not simply magicians, they are cinemagicians. Equipped with their trusty video camera, a few magic props and the belief that anything is possible.
For more information click here.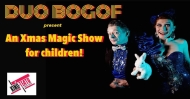 It's a Wonderful Life - Electric Palace Cinema
Jimmy Stewart is the owner of a money lending company that for years has been helping people in his town live their dreams. But when one Christmas he has one calamity after another, he decides to take his own life, believing everyone would be better off if he had never lived… A heavenly messenger (Henry Travers) arrives to show him a vision: what the world would have been like if George had never been born. For more information click here.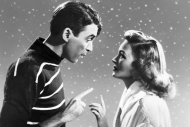 Have a look at other events that are happening over Christmas and the New Year here.  
Have a wonderful Christmas and a happy new year.