What's happening in Hastings over the Bank Holiday weekend?
Ocean Colour Scene - Hastings Pier
This Saturday evening on the pier is a unique one-day-open-air event curated by Ocean Colour Scene themselves and will see the band perform their seminal 1996 breakthrough album Moseley Shoals in full plus a selection of their greatest hits. Joining them on this special bill will be the hugely successful and longstanding Beatles tribute THE BOOTLEG BEATLES and Joy Division and New Order bassist Peter Hook's band PETER HOOK AND THE LIGHT who will be performing the greatest hits of his illustrious career. Surprisingly, tickets still available - for more information click here.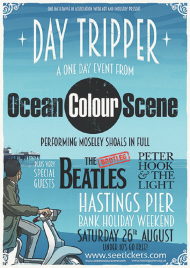 Whitney - Queen of the Night - White Rock Theatre
And also on Saturday evening, a mere 'stone's throw' from the pier at the White Rock Theatre, there's a stunning celebration of the music and life of one of the greatest singers of our time. This award-winning production features a stellar line-up with rising West End star Rebecca Freckleton delivering a powerhouse and breathtaking performance as Whitney. Whitney's one true legacy was her music which touched most of us at some time in our lives. Share her life and get ready for the greatest love of all in Queen of the Night! For more information click here.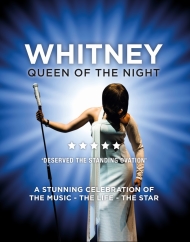 Hastings Pride - The Oval
This Sunday is Hasting's first ever Pride Festival, with a full scale parade, live music, street performers, stalls, food vendors, entertainment, and lots more - mark Hastings Pride in your calendars as an event you must attend! For information on times click here.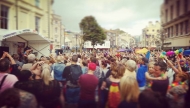 Family Fun Day - Get Neil Walking
And also on Sunday, the De La Warr Pavilion lawn hosts a family fun day by the Get Neil Walking campaign to raise funds for a father of four's treatment for Multiple Sclerosis. The event will feature a dog show offering prizes in categories such as 'scruffiest dog' and 'dog most like it's owner,' with contestants being judged by Elly and Mickey of La Roux. There will also be other exciting activities including a bouncy castle, fire engine displays, face painting, raffles, ice cream, burgers and more. For more information click here.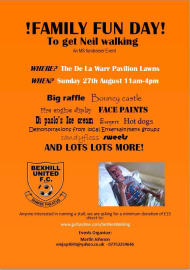 And if you've got this far and none of the above take your fancy, dozens more local events can be found right here. Enjoy your Bank Holiday Monday!