Special Mayor's Award for Elly!
18th December 2018
... Comments
---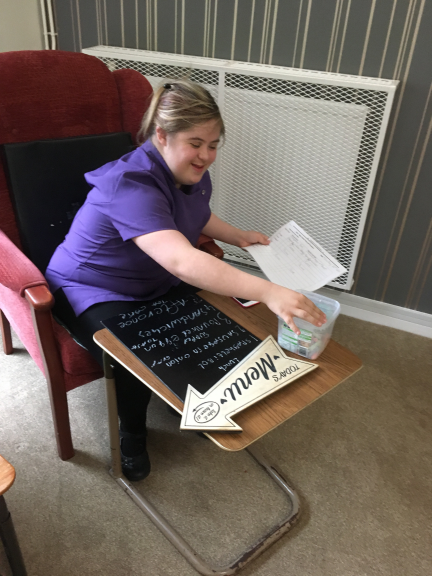 On Friday 9th November, Elly Frost attended Bexhill Town Hall to receive a special Mayor's award for her achievement in gaining paid employment.  Elly attended Glyne Gap School and then the Glyne Gap Faculty at Bexhill College.  During the time at Bexhill College she volunteered regularly at Hazelmere Nursing Home, helping with activities for the residents there.  At the end of the last academic year Elly was unsure as to what to move onto and Hazelmere Nursing Home owner; Dr Alan Jamaily; and Home Manager; Simona Mehes; decided to offer Elly a paid job because of her hard work and enthusiasm for working with the residents.  Elly now works as an Activities Co-Ordinator for the Nursing Home and has a Job Coach, Julie; from Little Gate Supported Employment; who will support Elly until she works independently. 
The Mayor; Abul Azad; had heard about Elly's paid role and wished to recognise her achievement. He presented Elly with an award in the council chambers in front of mum Caroline, colleagues, friends, family, staff of Glyne Gap Faculty, Remy from Hastings and Rother Charity and Little Gate Supported Employment Team.  The Mayor said "It was a privilege to welcome Elly, her family and friends to the Town Hall, to recognise her achievements.  Elly is such a role model for everyone at Glyne Gap Faculty and shows what a positive attitude and determination to succeed can do.  Elly has proven that the only barriers to achieving in life are the ones you let get in your way."  Hazelmere Nursing Home Owner Dr Alan Jamaily said "I would urge other employers to employ people using the Supported Employment route where a job coach attends with an employee to support them at the beginning of their role.  It has worked really well for our business and the residents love Elly."  Employers interested in working with employees using Supported Employment can contact Andrea at Little Gate Supported Employment team on 01424 423505.