Shows, Art, Cartoons, Films and other Influences
19th August 2018
... Comments
---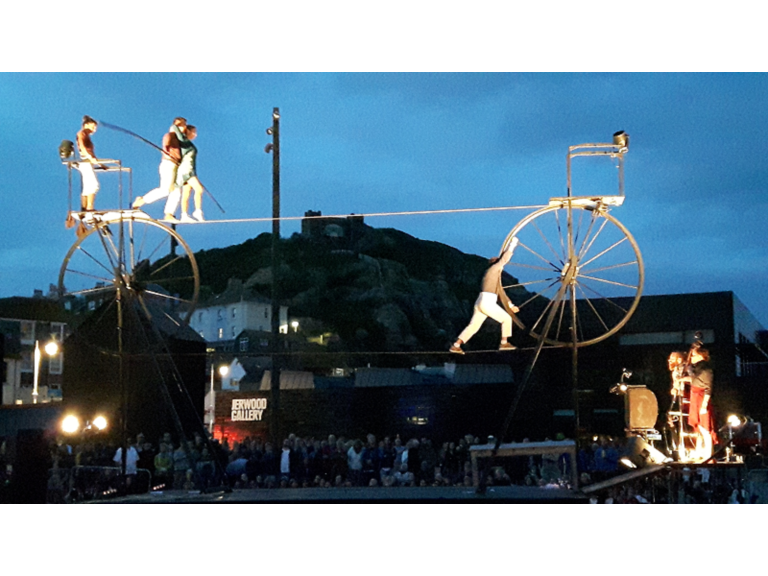 This weekend I watched Cirque Rouages "Sodade" street show at the Stade, Hastings. It was a circus theatre show with a story about an infinite tight wire, enabled by two large wheels and one long loop of wire. Please see the photo! "Every stormy evening, an old man, exiled for a long time, approaches the seaside. With the caress of the wind on his face, he returns to distant memories. A dream awakened by a happy nostalgia, to never forget, and to live at all costs. Around an infinite cable ..., four bodies in equilibrium will evolve, like the waves of a past time that returns and goes on unceasingly. ... Sodade ... There are two musicians to play, to sing and to tell a fable at high level, a hymn to life on a unique Circassian structure ..." Translated from Cirque Rouages' website. I really enjoyed seeing something different, multiple skills and well presented.
So why mention this? It has nothing to do with Danny The Idiot and balloons. Wrong! It's important as a balloon artist and performer to keep being inspired, provoked and to see different art forms of shows, art, cartoons, films and whatever else I can see, or read. It changes the way I think about something, perhaps I'm working on a new routine and seeing it from a different angle could help me solve a difficulty, or perhaps take me on a different journey. I enjoying being slightly different in my approach to performing shows and giving the very best service or performance for my clients at their events.
For an experienced specialist entertainer who knows what they are doing checkout my website for more info www.DannytheIdiot.com Available for all kinds of events to create balloon art or perform unique balloon shows.