Positive Power of Reviews
5th July 2017
... Comments
---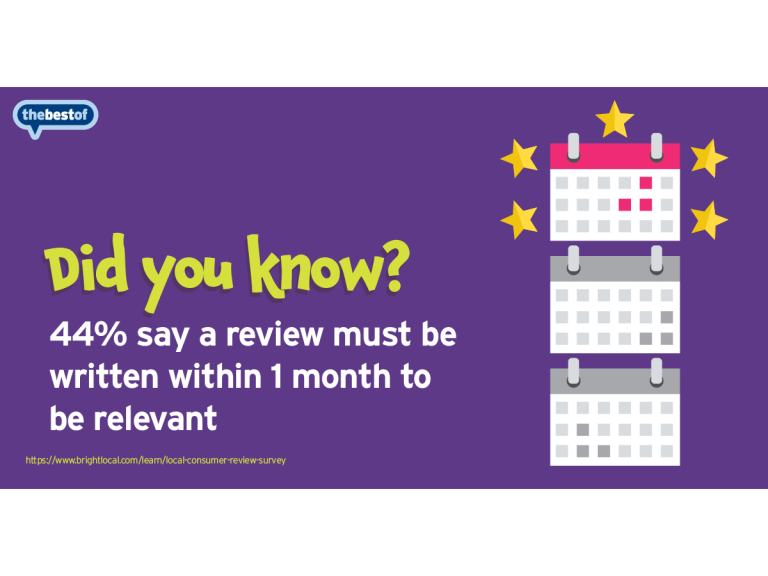 You could say people trust reviews but that wouldn't even be the half of it. The Bright Local Consumer Review Survey 2016 explored how consumers read and use online reviews about local businesses, read on to discover some of the interesting statistics they uncovered.
Why are online reviews so important?
Customers rely on them more and more:
90% of consumers read less than 10 reviews before forming an opinion about a business
73% of consumers think that reviews older than 3 months are no longer relevant
68% of consumers say that positive reviews make them trust a local business more
84% of people trust online reviews as much as a personal recommendation
58% of consumers say that the star rating of a business is most important
54% of people will visit the website after reading positive reviews
Read the full survey here ...
But it's not all about the customers and the emphasis they place on online reviews these days, another reason they are vital to your business is that they impact local Search Engine Optimisation (SEO), so they help you get found and noticed in internet searches!
You may think that online reviews are important only for companies at a national or international level, but online reviews are key if you're a local business as well. The Bright Local survey 2016 uncovered that 91% of customers use online reviews to see if their local businesses are reputable, so ensure your local audience can find your business and some great online reviews!
How to leverage online reviews for your business?
Now that you understand the importance of online reviews, it's time to start encouraging your customers to write them. How? Put up stickers in your windows, or a notice at the till explaining where customers can leave a review, or go one better and have some actual review cards and a pen ready for them. Online you can add a URL for a review site to your email signature to entice a customer to leave reviews and of course don't forget to host them on your website and social media. The more places, the better.
Don't be scared to ask your customers to leave reviews. Your loyal customers want your business to succeed and already tell their friends and family about you, they'll be happy to share their feedback, but you have to ask! According to the Bright Local Survey 7 out of 10 consumers will leave a review for a business if they're asked to.