My first trip working in the Middle East
29th July 2018
... Comments
---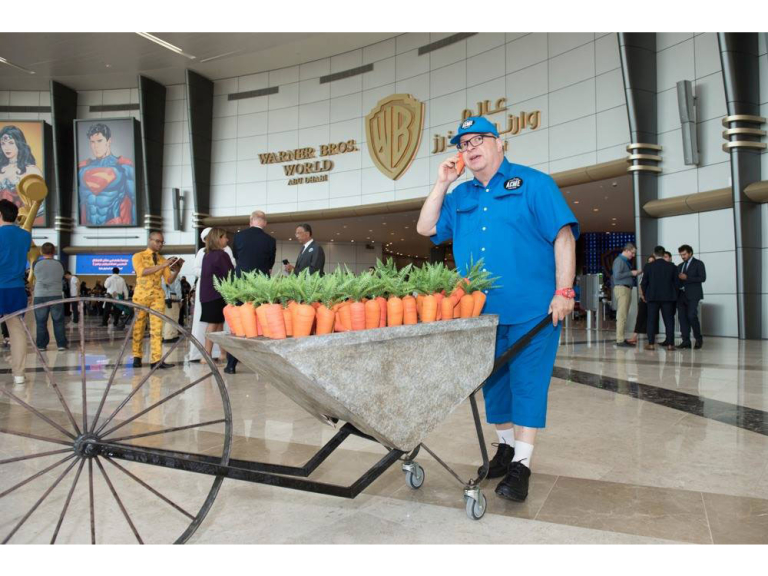 I've been asked several times to work out in the Middle East either balloon modelling or performing my balloon shows. However, this job was the first to actually happen and I was hired for my performing skills. On the first day, we were bussed to the new theme park. We had a quick tour and then were divided into the two groups, paparazzi characters and delivery guys. My character was to deliver carrots to Bugs Bunny in Cartoon Junction, the classic cartoon part of the theme park. The other half is Gotham City and Metropolis with superheroes and supervillains. The other delivery guys were working on an anvil delivery, a two-person job as the anvil was "heavy". And a crate containing Taz, the Tasmanian Devil that shook and had crazy noises was the final delivery option. Our job was to roam around Cartoon Junction looking for the person/character to sign for the delivery and asking people questions, interacting with them and having fun. I checked out my prop, a wheelbarrow full of carrots. Some were loose and most were fixed. Previously we had been sent a script so I knew roughly what I was supposed to say and do.
We were then sent to try on our costumes. Even with sending measurements ahead of time not many of the costumes fitted people and mine didn't fit at all. So it was sent back to Dubai for rejigging. The next day was show time with security on high alert as two Royal Highnesses were to make an appearance and see what the new family-friendly theme park had to offer. So there was a long queue for airport-style security to enter the building. I still hadn't got my costume. And after wolfing down a very late lunch, being told no costume / no perform. I was resigned to not performing. However, upon returning from lunch my costume was there. And I was able to change quickly and get into position.
Eventually, the Royal group arrived and were welcomed by the paparazzi and the real press too. I then performed my phone carrot routine as they all passed by for the main opening ceremony. Everyone was happy and we repeated this the next day but with about four thousand invited guests who really enjoyed themselves, wanted lots of photos and time to chat. Luckily I held onto all the carrots ready for the public opening of the park the next day, where someone else would take on my role. All in all, a 24 carrot experience! Very interesting seeing another culture in a really hot climate and performing in front of a royal family.
If you would like to see how I can help you with incredible balloon art for your event, please contact me at www.DannytheIdiot.com