It's Time to Go Crazy as Entry to the World Crazy Golf Championships 2018 Opens!
Entry to the World Crazy Golf Championships is now open!
This popular event is taking place at Hastings Adventure Golf on June 9 and 10, and the competition is open to anyone and any ability.
The global competition has two categories - one for novices* which will be played on Saturday 9, June and one for professionals played over the two days (Saturday 9 and Sunday 10 June).
Each category competes for a separate prize fund too, with the overall winner scooping £1,000 - the largest prize fund in mini golf. A separate prize fund of £1,500 is allocated to the novice category.
Competitors must beat the windmill and watermill as well as negotiate the bends, twists and ramps on the traditional seaside course at Hastings Adventure Golf – dubbed the UK's 'spiritual home of mini golf'.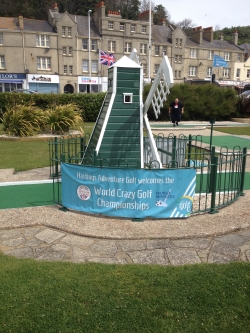 And it's not just about the winning...  this year there are some rewards for taking part too (regardless of how well you do!) For the first time ever, the organisers are also awarding prizes for 'best dressed', 'personality of the weekend' and 'most improved player'.
Seasoned pro and twice runner-up, Sean Homer, said: "I made my debut in 2006 and got hooked on the game. I've played in every competition since. It's fantastic that the Hastings' event is still focused on what has always made it so special - a fun, exciting, inclusive and entertaining spectacle for the young, old and everyone in between."
This is the sixteenth year that Hastings Adventure Golf has hosted the global championships - now firmly considered the pinnacle competition for crazy golfers in the UK and beyond. 
Simon Tompkins of Hastings Adventure Golf said: "We want players of all abilities to get involved. The novice category is open to anyone who fancies their chances at taking home the prize fund. So get the putters polished and start practicing!"
Fancy your chances?!  
You can enter via the Hastings Adventure Golf website: www.hastingsadventuregolf.com. All entrants are entitled to half price practice golf at the complex.
*Players are classified as a novice if
They have not entered the World Crazy Golf Championships before
Are not a recognised international player
Have not finished in the top ten of a BMGA tour event