It's all go at Aspects Hair Designers as we head into Spring !
It's been a busy few months in the Aspects Hair Designers salon, with the talented stylists creating new styles and transforming hair for some very happy clients.
First up is this fabulous result with the Cezanne anti frizz smoothing treatment. This treatment reduces frizz and delivers smoother, stronger, healthier, more manageable and exquisitely beautiful hair that lasts for months. It really is a must for holidays, humid, damp weather on curly unmanageable frizzy hair. So with the warmer weather coming up and humidity increasing, it could be the perfect answer to keep your hair looking sleek and smooth. Here's how fantastic it looks...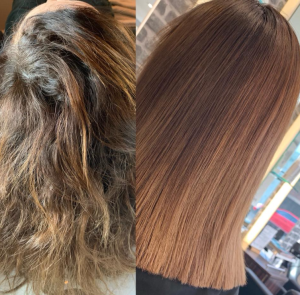 And now for another transformation, this time hair extensions to give your look an instant change. Created by Sarah, who has many years of expertise and specialise in colour blending and invisible placement, your new look will create thickness and length to your hair with nobody ever needing to know that it's achieved by using hair extensions! This photo shows the celebrity choice weave extensions, and we think it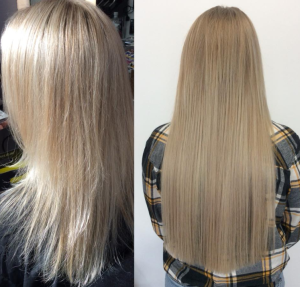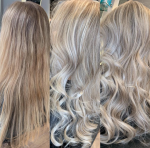 When it comes to colour, creating a look that makes a fabulous impression is what Aspects is all about!
Not only can the expert stylists create a totally new look that will give your hair the "wow" factor, but if you're feeling a little less adventurous they can simply revitalise your existing colour, and make you feel amazing.
The Aspects team have worked their magic on a number of colour transformations over the last couple of months and they're proud to show off just how gorgeous their clients look as a result.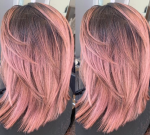 The first image shows a colour revamp on this dull tired blonde to a sunkissed cool ash blonde, created by Mary.
And the second image is a perfect example of "pink pink to make the boys wink"! Love the look!
Both the London and Brighton marathons are coming up towards the end of April and one thing's for certain, most runners who cross the finish line will feel a little tender the next day, with a few aches and pains after putting their bodies through such a gruelling exercise.
Why not book in for a seep tissue massage? During a deep tissue massage, the pressure is stronger and concentrated on a problematic area that might be causing chronic muscle pain, the action of which might lead to a little bit of discomfort. This is because car tissue is being loosened and muscles lengthened, knots are being undone and sub-layers of muscle ar being moved back into the right place. 
It is most definitely worth it after running a marathon though as it helps alleviate the pain in the long term!
Be sure to make your appointment soon and you can look forward to a treatment that will make your muscles feel much better.