I love my job (continued)
2nd December 2018
... Comments
---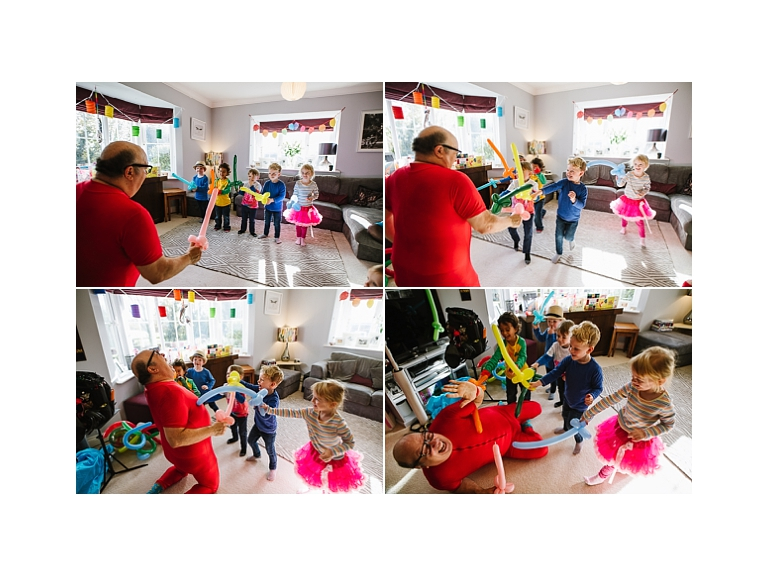 Last week I wrote about why I loved my job, and perhaps now it is December I should be writing about Christmas things. However I was flabbergasted to receive a link to a blog about a birthday party I performed my show at in early November.  The Mum who booked me is Bex Maini, a blogger, photographer and Mum of twins wrote a fantastic review blog. Here's how it all began, we had a couple of conversations where I like to find out as much information about the party beforehand to give me a better idea how I can make it a fantastic event for everyone. I like to know basic stuff like location, number of guests, and if there is a theme that perhaps I can include in the show some way. The theme for the twins' 4th birthday was Rainbows. Excellent I thought – balloons come in all kinds of colours so I can do that. I changed my colour scheme of the "Birthday Balloon Show" to Rainbow colours. I arrived early on the day, as I tend to do and prepared for the show. Six excited children and parents gathered and I started the show. Becky was taking a lot of photos and I realised afterwards a video too. Here in her own words is what she said in the blog.
"One of my favourite bits was when he slowly dressed himself in rings of balloons, it was a bit baffling at first but then he brought out his balloon chainsaw!  Seriously awesome, he had sound effects and "started it up". You have to watch the video below to see what he did next...His finale was pretty epic too, he climbed into a balloon! You need to see it to believe it..."  Here is the Video link! https://bit.ly/2SmSfUv
Bex finished with the bit that blew me away, "Danny comes highly recommended by the kids and grownups alike.  We all enjoyed his show, he's great with the kids and perfect entertainment for pre-schoolers and even older kids…. (He) was brilliant on the day and it made my life so much easier as all I had to worry about was the afternoon tea part, well worth it!  The twins have been asking for the funny balloon man to come back ever since and the octopus is still going strong two weeks later!"
Please check out Bex's full blog here https://bit.ly/2PjpvKw . It has all photos and more lovely words. If you are a parent of young kids it's well worth following Bex as she blogs about family outings in the East Sussex area, and all kind of interesting activities to do. As a pro photographer at http://www.bexphoto.com/ you can see her work there and perhaps ask her to take photos of your family too.
If you would like some help to make your event even more memorable with incredible balloon art or amazing balloon shows, please contact me at www.DannytheIdiot.com
Photo Credit: http://www.bexphoto.com/ Bex Maini