Hastings Jack in the Green 2017
28th April 2017
... Comments
---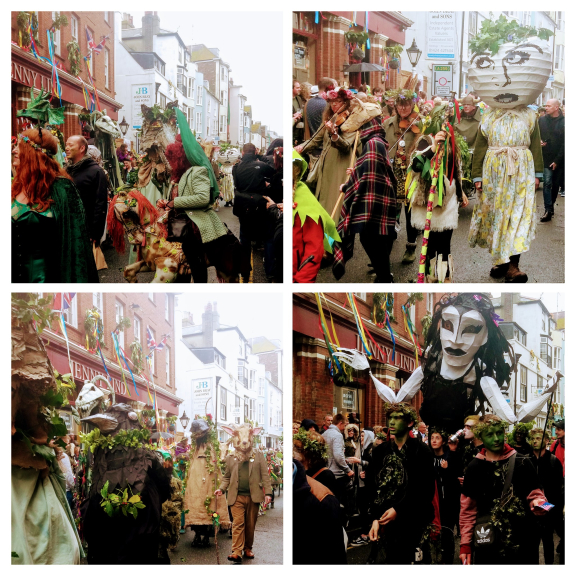 From the 28th April - 1st May, the seaside town of Hastings will come to together to celebrate the Jack in the Green Festival. Over these four days a variety of events take place, filling the town with true excitement and festivity.  
Talented musicians will be playing for free this Friday in The Stag on All Saints Street. Discover 'Dancing on the Pier' on Sunday at 1pm and the not to be missed 'Drum off' at Butlers Gap, George Street at 4:30pm. Just some of the many events taking place, find out more.  
Monday MAYhem! The Parade itself
Be prepared to have your nose painted green as festival volunteers walk about with sponges and green paint at the ready. The procession gathers and starts at the Fishermen's Museum on Rock-A-Nore Road at 9:45am, where Morris Dancers will be waiting alongside the festival Giants. Hastings' favourite local bands Section 5 Drummers and Sambalanco, will also be present amongst other talented, visiting musicians in the parade.  Look out for the Sweepers and the newly crowned May Queen, as well as Jack's faithful protectors the Bogies. The main focus of the parade is the Jack itself leading the procession. It is held up high for all to see, wrapped up snug in giant leaves and topped with a flowery crown, symbolising the start of spring.  
Follow the procession as it moves around the town, with its final destination being the West Hill. Different acts and performers take their turn to showcase on the main stage, and an array of craft and food stalls will be present, as well as liquid refreshments in the festival tent. Don't forget to check out the thousands of bikers who will be gathered along the seafront for the annual Mayday run, one of the region's biggest biking events.
Safety is paramount throughout the day, so be aware it will be busy due to the popularity of the festival. I recommend getting to the town early to allow yourself time to find somewhere to park, however it is set to be a day of brilliant Jack in the Green fun for all.