Feeling the love at Aspects Hair Designers & Beauty House!
The festive season is done and dusted for another year... up next is Valentine's Day! 
Whether you're a "Valentine's Yay" or a "Valentine's Hey?" kinda person, February 14th offers an excellent excuse to give the love of your life a little nod to romance.
Gift vouchers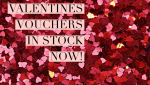 They really are the perfect way to let someone choose their ultimate pamper session. Fancy a facial? Mulling over a massage? Eyeing up a lash lift?! Vouchers are available for any amount and can be ordered online.
All you need to do is enter your name, the recipients details, a personalised message, and the amount into the online form. After clicking the purchase button you'll be taken to the checkout to enter your payment details. Once payment has been received the gift voucher will be automatically emailed to the recipient.
It's as easy as 1,2,3!
Or you could go right ahead and book a massage for two...
Have a 90 min massage for the price of a 60 min and unwind in the relax room together and enjoy a glass of Prosecco! Book in now for £100 (£50 per massage saving a whopping £20 each!) 
Offer valid on Saturdays throughout February.

Banish those January blues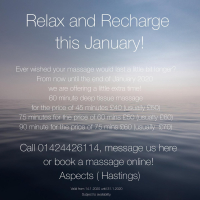 The most depressing day of the year "Blue Monday" has been and gone, thank goodness, but if you're still struggling to banish your blues then this January offer is for you!
Relax and recharge with a little extra time on your massage.
Get 60 minutes for the price of 45 minutes, 75 minutes for the price of 60 and 90 minutes for the price of 70.
Call 01424 426114 to book or book online.
Join the January detox
So many people make a commitment to living healthier after the excesses of Christmas and New Year - for January at least!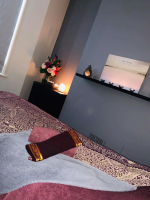 Why not join them with a total detox?
This wonderful treatment uses warm dead Dead Sea mud to envelop your feet to cleanse and kick start your energy levels. This is followed by a back massage using warm oils, and your detox is then completed with a deep cleansing heavenly facial.
You'll leave the salon feel recharged, invigorated and your skin will be radiant.
Get it all for a special January price of £49 (usually £62).
New year, new you...?!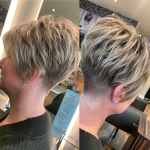 If the start of a new decade has made you decide it's time to completely change your look then Aspects Hair Designers are here to help.
For example, this look was recently created by stylist Karen and we think it looks just fabulous. This cheeky little undercut has transformed this client's look and they left the salon feeling incredible. 
The team are always happy to recommend a style that will suit your face perfectly, as well as the best products for your hair type and chosen style from the professional range available in salon.
Feel free to come and chat to us about how we can change your life! We offer hair advice, beauty advice even Cambridge weight plan! Call us to book your free 15 consultation!

And finally, a word of warning...
The team were recently visited by a client who brought in a product sold at Aspects that they'd bought online through Amazon.
Can you spot the difference?!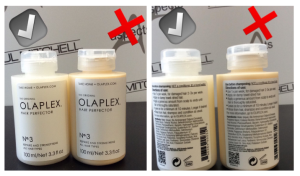 The bottle on the left is the genuine article retailed by us here at Aspects, the bottle on the right was the Amazon purchase. But all is not as it seems....
When looking into the contents - while the outside packaging is absolutely identical - it seems that all is not equal. The product bought from Amazon is unfortunately cheap conditioner and isn't the real deal!
This highlights what we say time and time again: if it seems very cheap compared to the usual price, then it's probably like that for a reason!
Please ensure you buy your cosmetics from trusted hair specialists. The odds are if it seems too good to be true, it is.